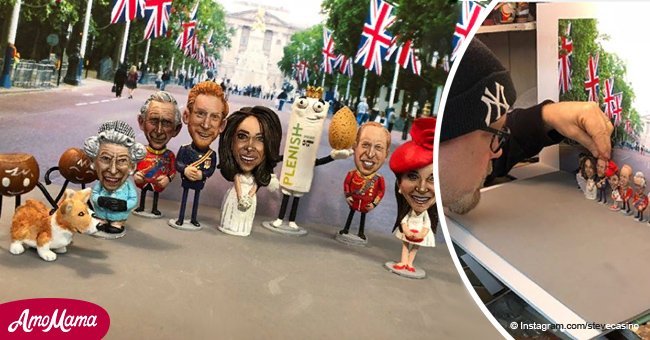 Royal family gone nuts? Artist spent 326 days carving the royals from unusual material
The artist decided to recreate the royal wedding through painting, but decided to use a rather unconventional "canvas" for the interesting artwork.
Steve Casino is a nut-based artist. Not in the needs-an-asylum kind of nuts, but in the sense that he uses actual nuts to create his works of art. Before the May 19 wedding of the Duke and Duchess of Sussex, he wanted to recreate the day on nuts.
He spent a whopping 362 hours creating the tiny figurines, painted on various different nuts, including almonds, cashews, hazelnuts, and coconuts, and the miniature versions of Westminster Abbey and Buckingham Palace, despite the couple ultimately seeing neither on their wedding day.
He used clay and paint to create the figures on the nuts, even dolling Meghan up in a wedding dress and the groom is the military dress uniform he was touted to wear on the day.
The figures he created included Queen Elizabeth II, Prince Charles, Prince William, Catherine, Duchess of Cambridge, and of course the bride and groom.
Princes Charles and William were dressed in the uniforms they wore for William's 2011 wedding. The Queen wore a turquoise dress and a crown, while Catherine was dressed in an off-white dress (good guess) and a red fascinator.
He also appeared to have created two Corgis for the Queen to keep at her side!
Casino opted to use Westminster Abbey (the site of William and Catherine's wedding) instead of St George's Chapel where Meghan and Harry had announced they would marry. He also incorporated the Buckingham Palace balcony scene.
Both venues were brought together into the nutty theme with coconuts.
The artwork was actually commissioned by organic British nut milk brand Plenish, which displayed the creation during the London Coffee Festival from April 12 to 15.
"When Plenish came to me asking to help them bring their idea to life, I was thrilled, The Royals are loved in the US and I admire the brand's ethos so it was a super rewarding project to work on, albeit challenging. The Queen and Prince Charles were by far the best characters I've made yet!" Casino said.
Kara Rosen, the CEO of the company, was ecstatic with the result, saying that it had been a long journey to find someone capable of creating their idea in real life.
Please fill in your e-mail so we can share with you our top stories!