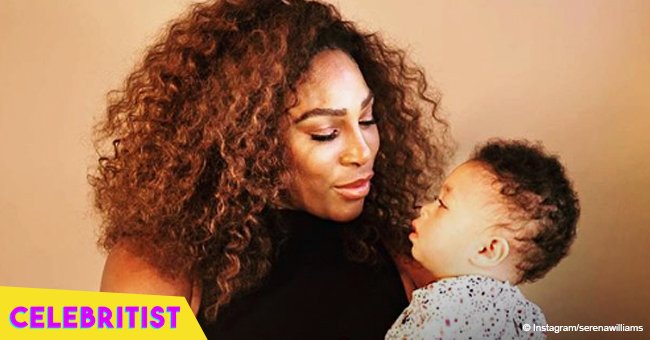 Serena Williams shared video of her daughter pushing around luggage
Serena Williams is one of those moms that founds everything their kid does adorable, and she's not embarrassed about it. The athlete recently took to Instagram to share a funny video of his soon to be 1-year-old daughter pushing some luggage around.
Alexis Olympia is not even 1-year-old as she already has millions of fans. People who follow her tennis star mom on social media have been blessed with photos and videos of her adorable being since she was born.
Serena is a proud mom, and she shows it by continually keeping tabs on everything her little one does and sharing it with her loyal fans, mostly through her or Olympia's Instagram account. In one of the recent clips the 23-times Grand Slam winner posted, Alexis Olympia is seen confidently walking on her own.
While many fans found impressive the fact that being so little Alexis Olympia is already so steady on her feet, others found hilarious the point that she was pushing luggage bigger than her around, showing how smart she is.
The adorable tot was rocking a yellow top, pink pants and a pair of pink Crocs. Fans couldn't contain their amusement as they filed Williams' comment section with praises for the girl and her motor abilities.
One user wrote "She's Walking already...more like jogging, she Strong just like her Mom, how she pushes that case through the doorway, With One Hand," and another added, "Look how strong she is and that balance already... yup makes sense look who mother is."
Williams, 36, recently opened up to Essence about how she's planning to instill the strength of a black woman on her daughter. "There are so many things I want to teach her about being a Black woman, and I'm proud that I have that opportunity," she said.
"I was just talking with my husband, Alexis. We were talking about how we want to take her to Africa and show her where she's from and the strength that she gets from her ancestors. We want her to be able to build and thrive off that strength. And that's only the beginning of what I want to teach her."
The tennis superstar also wants to make sure her daughter believes in herself, works hard and has a strong work ethic, as she said:
"I want her to also have work ethic. I want her to know that this is what her mommy did, and that's what motivates me. I'm sure first-time moms will totally get it. When you have a baby, you just want to do everything you can for them."
Serena will be playing in the US Open in the upcoming weeks, months after she lost Wimbledon in the finals against Angelique Kerber.
Please fill in your e-mail so we can share with you our top stories!