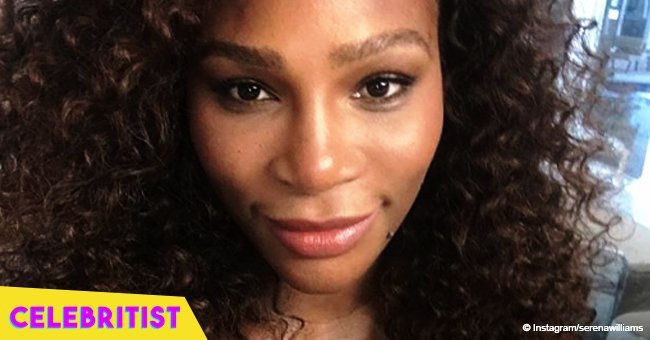 Serena Williams melts hearts with video of baby Olympia enjoying her walk with baby doll Quay Quay

Olympia Ohanian will clock one in a few weeks' time, but she's already learning to take care of someone else. The Shade Room shared a video taken by Olympia's mother, Serena Williams, of the little girl walking her doll, Quay Quay.
The recording begins with Olympia pushing her doll haphazardly in its stroller as she takes faltering steps. Williams' voice can be heard in the background as she urges Olympia to put on her shoes and join her so all three of them can take a walk.
"I know you're ready but, is Quay Quay ready?" Williams asks the prancing Ohanian. She continues:
"You've got to let her see outside."
The video cuts to an exterior scene where Olympia, now in her cute baby sneakers, has brought Quay Quay out for a walk.
Most fans in the comment section could not believe Olympia was already walking. One user commented:
"Boy she's walking already? I feel like she was just born."
It's hard not to gush over Olympia in this video, and one can see Williams enjoys talking to her kid.
The tennis star recently opened up about her postpartum troubles, confessing she felt she wasn't doing enough for her baby. She, however, sent words of encouragement to other moms:
"Most of you moms deal with the same thing. Whether stay-at-home or working, finding that balance with kids is a true art. You are the true heroes. …I'm here to say: if you are having a rough day or week — it's ok — I am, too!!! There's always tomm!"
36-year-old Serena who shares Olympia with supportive hubby, Alexis Ohanian, also draws strength from none other than her daughter. One of her tweets in July read:
"Today I say Olympia fall... but she got back up. She fell again almost immediately... and almost immediately she got back up again. She always had a smile on her face. I learned a lot from Olympia today. Thank you my baby love."
Please fill in your e-mail so we can share with you our top stories!