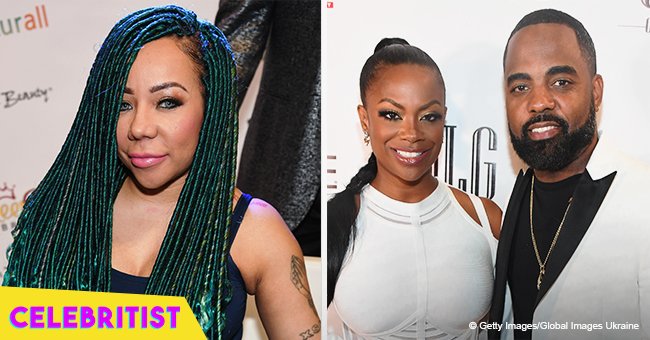 Tiny Harris slammed for 'disrespecting' dress code at Kandi & Todd Tucker's party
Tameka "Tiny" Harris faced some backslash from Xscape fans after she decided to ignore Kandi Burrus' established dress code for the lavish birthday party she threw for her husband, Todd Tucker.
Kandi Burrus is known for being meticulous and perfectionist with everything in her life, from her business to the way she raises her kids to her fashion. So, when she sends an invitation and establish a dress code for a special party, her guest will mostly follow the indications without a doubt.
However, when her former bandmate Tiny Harris appeared at a party that was supposed to have people wearing "Jerseys and Jordans," Burrus let it slide. And considering how shady the "Real Housewives of Atlanta" star can be, that should have been the first sigh for fans to leave Tiny alone.
Toya Wright, and her baby daddy Robert Rushing, and Rasheeda and Kirk Frost got dressed for the occasion but not Tiny. The mom of four made her presence be known by wearing a sexy dress and thigh-high boots drawing more attention to herself among the sea of basketball uniforms-like outfits.
After watching the pictures, fans called out the "Family Hustle" star for being "disrespectful" and "attention seeker" for not sticking to the dress code. One user wrote "All she had to do was get the jersey & take it with her.....Please," and another added "Tiny must didn't get the memo. Where's her jersey?"
Other fans came out to the singer's defense. One wrote "Leave @majorgirl alone @kandi not mad so stay in yall own lane...look like they had fun, that's all that matters," and another agreed "@majorgirl wow ppl be so pressed! About little things tho. True friendships are about SUPPORT! You came and supported your people...all that matters."
Tiny's eldest daughter, Zonnique Pullins, also came to her mother's defense, as she explained with a comment that Harris' outfit choice was not a diss in any way. According to the young lady, her mom was hosting an event and didn't have time to change before arriving at the party.
She wrote:
"Tiny was coming from working SO talk what you KNOW."
Kandi, on the other hand, remained clueless about the whole ordeal surrounding her friend's outfit as she took to Instagram to share several photos of her husband's birthday party. She captioned one of the pics:
"I just threw my baby @todd167 an epic bday party!!!!! I will be posting pics for days from this party. Thank you to EVERYBODY that came & helped make this a special night for @todd167. I appreciate you! The theme was Jerseys & Jordans if you're wondering why we have this on... #funtimes #TODD45 @HauseOfGlam."
Kenya Moore, Eva Marcille, Porsha Williams and Shamea Morton, from "Real Housewives of Atlanta" were among the other guests who came. Kandi posted photos with all the girls and their significant others on tow.
Last month, Kandi and Tiny were on a trip to Miami to celebrate Harris' birthday and is clear that their friendship is more valuable than a few fan opinions shared on social media from people who don't even have the whole background story of certain situations.
Please fill in your e-mail so we can share with you our top stories!