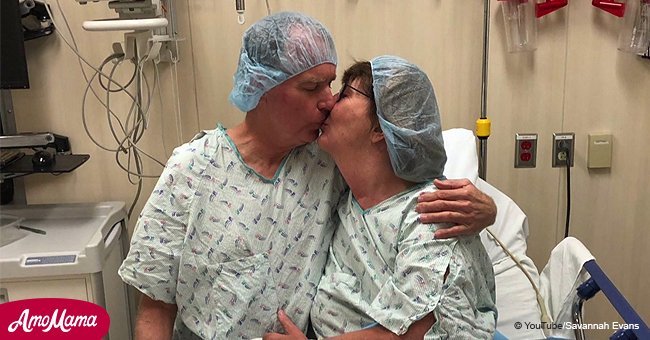 Man donates kidney to wife of 30 years and saves her life
Lesley Kennedy was in need of a kidney donor but found no match until her husband of 30 years volunteered to be tested. When results showed he was a perfect match, the couple said it's the perfect love story.
Lesley was diagnosed with polycystic kidney disease, and her health started to deteriorate. The genetic illness was causing her kidneys to fail, which scared her.
In early 2018, she went through a series of dialysis treatments but was eventually warned that she needed to have a kidney transplant to live.
Lesley's husband, Steve, knew he had to do something to save the love of his life. On July 19, he donated his kidney to her, and since the operation, the couple is closer than ever.
Follow us on Twitter at AmoMama USA for more viral stories and videos.
On Facebook, Steve shared their story and the post quickly became viral. He shared photos of him and his wife after their surgeries.
He wrote, "Lesley and I got through our kidney transplant surgery at Virginia Mason hospital in Seattle. My donated kidney appears to be doing pretty well in its new home inside Lesley. But it may be a bumpy ride for a while."
Steve also encouraged others to consider organ donation. He added, "It is truly an amazing gift to be able to donate. Especially to your spouse."
Speaking with Fox, the couple shared, "We were a team before, now we're really a team."
At the time when they were still searching for donors, Lesley recalled it was a difficult period.
One of her friends and her sister offered to donate their kidneys, but they weren't matched with her.
Fortunately, Steve was a perfect match. Lesley said, "It's the way maybe it should have been all along. It's a love story."
Talking about donating his kidney, Steve shared it was the best decision he has ever made in his entire life.
Following the surgery, the couple – who will be celebrating their wedding anniversary in October - have been recuperating and have talked about their plans for the future. According to Steve, they plan to climb Mount Kilimanjaro together with their son when they are fully recovered.
In other related news, Jordan McIntosh, a resident of Phoenix, made the ultimate sacrifice and also donated his kidney to his adoptive mother.
Please fill in your e-mail so we can share with you our top stories!