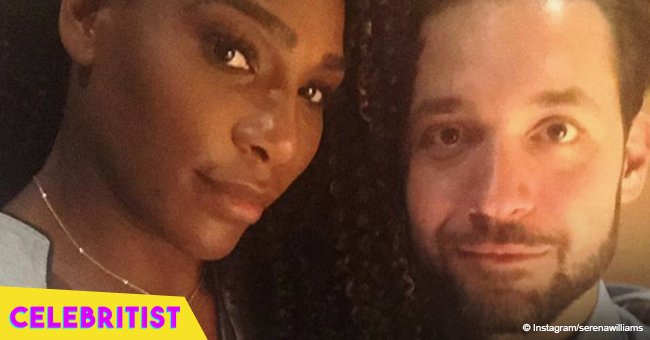 Alexis Ohanian melts hearts with video of wife Serena Williams and her 'little' fans
Many times in the past Alexis Ohanian proves he's a supportive husband who surprises his wife, Serena Williams, with grand gestures from time to time. His recent post is no exception as he reveals how much he values the tennis superstar and what she means to others.
Serena Williams' husband, Alexis Ohanian is possibly one of the few good husbands who genuinely dote on their wife. Countless times before, the Reddit co-founder has proven himself to be an adoring partner who cheers on his superstar wife and showers her with romantic gestures.
During their 'Beauty and the Beast'-themed wedding in November, he surprised his bride with a carousel in the venue. Likewise, when Serena returned to tennis after giving birth to their daughter Alexis Olympia, he lined the highway outside Palm Springs, California with four billboards declaring her the G.M.O.A.T or 'Greatest Momma of All Time.' Just a month ago, he whisked his family to Venice just because his wife was in the mood for something Italian.
His latest post is another reason to love the man. Merely a spectator observing his wife's success, he shared a cute clip of Serena's young female fan's excited reaction upon seeing her idol. In the clip, Serena is introduced by an announcer as little girls watching from afar held on to their cellphones to take a photo of the tennis champ.
"This young lady's reaction is everything,' Alexis wrote to accompany the video he shared and added, 'What is your S?'
The "S" Alexis was referring to was the pendant one of Serena's fans was wearing which she held up for her idol to see. When Serena reacts by telling her "I love your S," the thrilled young lady replied, "Thank you I wear it just for you." The little girl's reaction after was priceless. Her eyes grew wide as she turned around in disbelief because she just had a conversation with Serena Williams.
Alexis sees how much his wife means to a lot of people and proudly shares that to the world. But he also revealed how much she truly means to him in a recent interview with Time Magazine. He recalled the scare he went through after Serena suffered complications shortly after giving birth to their daughter in September.
"It's a lot to change gears from being really happy and thrilled about bringing this life into the world to having to kiss your wife goodbye and praying she'll be O.K."
Luckily for the couple, after five surgeries, Serena recovered and now enjoys motherhood together with her husband who also pushed for paid paternity leave after going through Serena's life-threatening childbirth ordeal.
When it comes to Serena and his family, Alexis will go to great lengths to keep them happy and protected. Earlier this month, he responded to haters of interracial marriages who chose to poke fun on him and his wife. A Twitter user compared Alexis to a Ku Klux Klan member holding a Black woman. This didn't sit well with the accomplished entrepreneur who fired back with a history lesson directed at the man and those who supported the offensive meme.
Please fill in your e-mail so we can share with you our top stories!