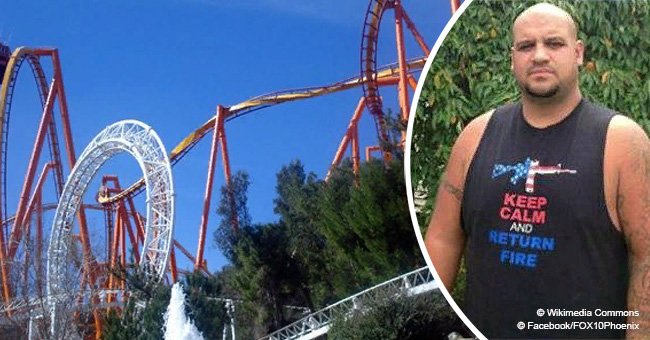 A veteran wasn't allowed inside Six Flags because of his shirt
Iraqi war veteran Mario Alejandro revealed that he was turned away from New Jersey's Six Flags Great Adventure because of his shirt that supports Marines.
In 2014, Alejandro, who is a father of three and a former coach of the Cardinal McCarrick High School football team, took his family at Six Flags Great Adventure for a birthday party.
However, he encountered a fight while trying to enter the theme park due to the shirt he was wearing.
The shirt, which was bought from the Reconnaissance Foundation, a nonprofit organization that helps to support Recon Marines and their families, has a red, white and blue machine gun with the words "Keep Calm and Return Fire" on the front.
Follow us on our Twitter account @amomama_usa to learn more.
Alejandro told NJ.com: "I was walking in through the gate with my wife and kids, who were in front of me, when a security guard grabbed me and said: 'I can't let you into the park with that shirt on. That shirt's offensive.'"
"I said that it's not offensive, it's a military shirt. I told him that I am an Iraq veteran… I served in the war. But he said: 'I don't care, you have to take that off… or you need to buy another shirt to put over it.'"
The security guard then told him to wait when he refused to take the shirt off or buy a new shirt to cover it.
"I saw him talk to two women in white shirts, who looked at me and then shook their heads. And then the man grabbed my arm and asked me to leave," said Alejandro, who served four years as a member of the Marine infantry and was part of the initial 2003 invasion into Iraq.
He added: "I told them that's it's not offensive, that it's a military shirt and that it means something. But they said: 'I don't care, get out of the park."
Alejandro said that his wife and his son were crying at the time. They have no idea what was happening.
"I just told my son to remember this day. To remember how they treat veterans," he said.
In a statement from Six Flags Great Adventure obtained by NJ.com, spokeswoman Kristin B. Siebeneicher said that the incident was "under review."
She wrote: "Our goal is to maintain a fun, safe and family-friendly environment. Our dress code does not permit clothing with vulgar, offensive or violent language or images."
"If a guest is wearing such attire, we ask them to remove and replace it with another item of clothing; and if they do not have one, they are able to purchase a replacement item at a gift shop."
Siebeneicher also said that Six Flags is very proud of its longstanding relationship with the U.S. military.
However, Alejandro insisted that no veteran should ever be treated the way he was.
Please fill in your e-mail so we can share with you our top stories!