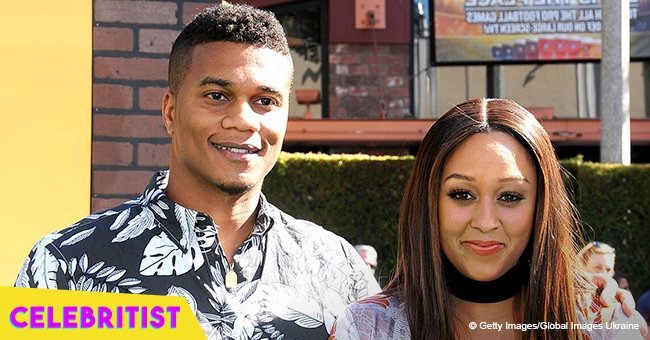 Tia Mowry melts hearts with photo of her husband cuddling their little daughter

Tia Mowry is melting our hearts with this picture of her husband cuddling their little girl. The proud mom who welcomed their second child three months ago has been keeping fans updated with cute photos of their bundle of joy.
Cairo Tiahna Hardrict looked at peace in her father's arms, as the actor stared fondly at his baby girl. Cory Hardrict, Tia's husband of ten years, was pictured wearing a jersey and a baseball cap worn backward. He held Cairo in one hand and an orange pacifier in the other. In her white onesie, Cairo looked like she'd rather be nowhere else.
"Sister Sister" actress, Tia, took to her caption to tell us what we could already see. "Daddy's girl," she wrote.
Since welcoming their only daughter on May 5, Tia has been updating followers of her progress. The mom-of-two is smitten with Cairo who she has been dressing in different costumes. Three weeks ago, Tia clothed the infant in a fancy layered black dress and headband. A "Los Angeles" beach towel was also visible in the shot which Tia captioned:
"Wesssssst-Sidddddde is da [sic] best siiiide!"
Tia also seems to be obsessed with clothing Cairo in Tutus of different colors.
We're not surprised Tia is so taken with little Cairo. Every mother has that maternal instinct to be close to their babies, but for Tia, who was diagnosed with Endometriosis, a common fertility problem, that urge may be stronger. It's also probably the reason why the "Tia Mowry At Home" host chose to keep her daughter's name private for more than a month after her birth.
Tia and Cory put a lot of thought into picking the right names for their long-awaited girl.
Tia explained to People that Cairo's name was chosen to match her brother's initials, Cree Taylor Hardrict. The name "Cairo" was also significant because it contained the letters "A-I-R" and Cory has a special attachment to flying. Her middle name "Tiahna" was not only special because it incorporated the mother's name, but according to Tia:
"Tiahna actually means 'follower of Christ.' Also, Tiana was one of the first African princesses, so she is our little princess here!"
No doubt, Cairo Tiahna Hardrict is one fiercely loved baby!
Please fill in your e-mail so we can share with you our top stories!