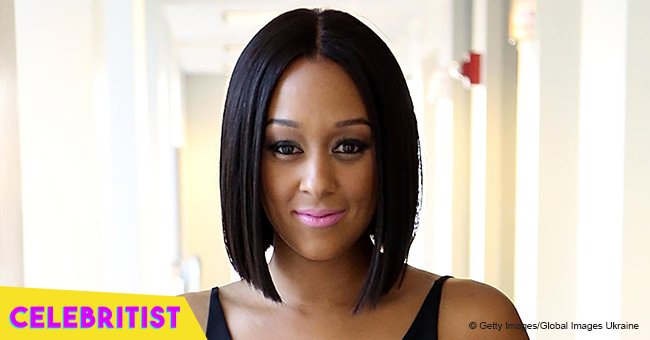 Tia Mowry's daughter steals the show in dark blue dress with ruffles in recent photo
Actress and TV host Tia Mowry, best known for Sister, Sister, took to Instagram to share a photo of her baby daughter Cairo wearing a beautiful outfit.
In the image, Cairo was portrayed laying down next to a white blanket that had 'Los Angeles' written on it. Apart from that, little cactuses, palm trees, and mountains were drawn on it.
The baby was wearing a dark blue onesie and a little headband that made her look gorgeous. She was staring at the camera, which made her look just as if she was posing for the photo.
For the caption, Tia wrote: 'Wesssssst-Sidddddde is da [sic] best siiiide! When Cairo and Los Angeles meet!' As soon as the actress uploaded that photo, her fans and followers took to the comment section to share their thoughts.
One of them was Instagram user Ellesig Smith, who pointed out that Cairo was getting chunky already and that babies grew up very fast. Tyna Jordan chimed in and said that Cairo was a beautiful chocolate drop.
That post was shared a couple of days after Tia uploaded a close-up one showing her daughter's wide-open dark eyes. In that picture, Cairo was wrapped in a white towel while staring directly at the camera.
Both her mouth and eyes were open, which made her look just as if something surprised her. In the caption, Tia only wrote a bathtub emoji, which set clear that the photo was taken a couple of minutes after shower time.
The actress recently revealed through another post that she has been exercising quite a lot after being diagnosed with gestational diabetes. Tia added that it was time to 'get back on track,' make healthy choices, and moving.
According to the Centers for Disease Control and Prevention, gestational diabetes affects two to ten percent of pregnancies in the U.S. each year, and it is a type of diabetes that happens when the body cannot produce enough insulin during pregnancy.
Thankfully, it goes away after giving birth. However, it increases the risk of suffering from diabetes in the future.
Please fill in your e-mail so we can share with you our top stories!