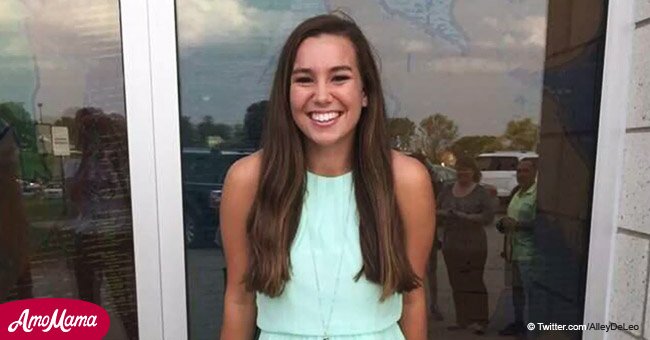 Mollie Tibbett's family fires back as her tragic death is used as political propaganda

Sam Lucas, who claims to be Mollie Tibbett's cousin, blasted conservatives over social media for using her death as 'political propaganda'
On Tuesday, August 21, 2018, Lucas accused commentator Candace Owen of taking advantage of Tibbett's death to support the illegal immigration topic.
Lucas took to her Twitter account to attack Owen after President Donald Trump called for tougher immigration control during a rally in West Virginia late Tuesday.
Lucas argued that America shouldn't 'generalize a whole population based on some bad individuals,' and considered using Tibbett's murder a cheap shot.
Please follow us on our Twitter account @amomama_usa to learn more.
"My whole family is hurting right now and you're not helping. You're despicable and this is so far from the loving and kind soul that Mollie was. My prayers go out to you in hopes that maybe you'll become a better person. Not hedging my bets [sic] tho."
Sam Lucas, Twitter, August 21, 2018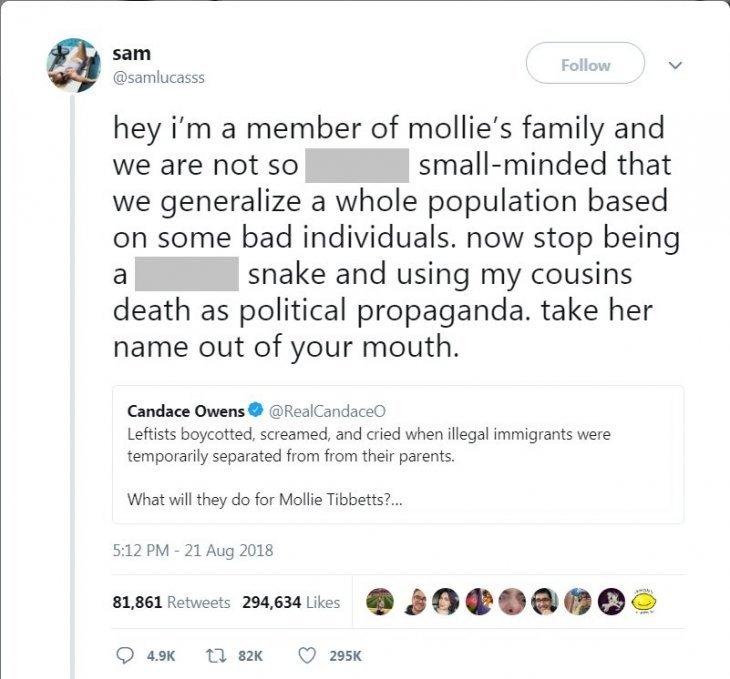 Source: Twitter/@samlucasss
Later on, Lucas revealed that she didn't speak for the whole Tibbetts family and that she was only trying to argue that politics had no business meddling with their grieving.
Tibbetts' murderer, Christian Bahena Rivera, was arrested after police were able to track down his Chevy Malibu through recently-recovered surveillance footage.
LEGAL OR NOT?
It is believed that the 24-year-old is an illegal immigrant and that he had been working illegally for the last four to seven years while living in Iowa.
During the rally, President Trump considered the immigration laws 'a disgrace,' and argued that what happened to Tibbett's should have never taken place.
POSSIBLE EVIDENCE
But, despite the suspicions that Rivera is an illegal immigrant, his attorney, M. Richards, stated in a court document that a former employer, Craig Lang, claimed that Rivera had all the necessary papers.
Lang, who co-owns a dairy that employed Rivera in the past, said that his immigration status was confirmed by an E-Verify electronic immigration status check.
NUMBERS DON'T LIE
The case will now continue to be discussed and investigated but, according to statistics presented by Vox, native born-Americans are much more likely to commit crimes than immigrants.
Mollie Tibbetts went missing and was killed on July 18, and now her death is being used as an argument to increase immigration control as if one man's actions represented a whole nation.
Please fill in your e-mail so we can share with you our top stories!