Waitress punches co-worker for slapping her bum while pouring alcohol
A shot girl from a bar at New Orleans turns violent after a woman slapped her posterior while she was performing a strange routine for a male bar-goer involving cinnamon whiskey, slaps, and 'motor-boating.'
The incident that took place at Spirits on Bourbon bar in New Orleans was recorded and uploaded to YouTube. It shows a barmaid, dressed in split red latex trousers, a red T-shirt, and sunglasses entertaining a male bar-goer while another woman comes up behind her to slap her posterior.
Enraged, the shot girl then stops her routine and turns to the woman, fuming. Without slightest of warnings, she then launches quick punches at the woman's face. Finally, another man had to enter and intervene to break the fight.
The woman who was viciously attacked is visibly stunned by the barmaid's reaction, but there is little she can do or say to retaliate. Ultimately, a man ushers her outside the bar and the shot girl quietly returns to her routing of pouring the whiskey down a man's throat.
Follow us on Twitter to learn more.
The strange routine is believed to be a tradition in the bar. It involves the shot girl, or the barmaid, entertaining a guest seated in a revolving barber chair by pouring liquor into their mouth, occasionally slapping, and rubbing her breasts in their face.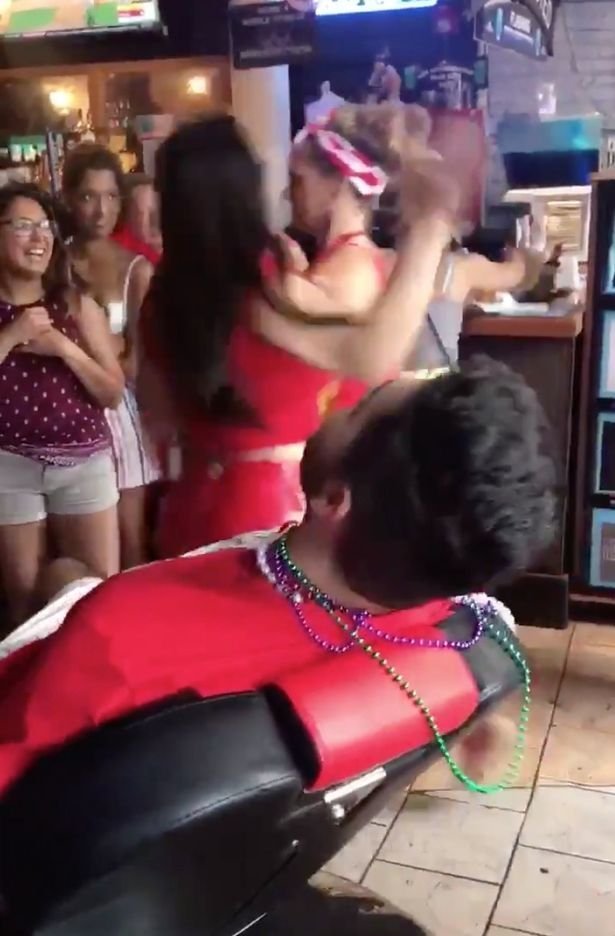 The man in the barber's chair, Tyler Gamble, seems equally shocked by the barmaid's sudden reaction. He later took to Twitter to post the video and captioned it as: 'Just wanted a shot of fireball.'
The surprising tradition is apparently a highlight at the Spirits on Bourbon. The bar's official website boasts that a visit 'isn't complete without a shot on Edward's Barber Chair!'
The website further informed that the revolving chair once belonged to the former owner of the bar, Edward DeBoire. He died at the age of 33 due to 'the free-flowing drinks and beautiful Creole ladies,' the website stated.
In a similar story, a waitress in Savannah, Georgia was also caught on tape retaliating an indecent approach from one of the customers. Caught on CCTV footage, the video showed the waitress grabbing the customer and slamming him hard onto the counter.