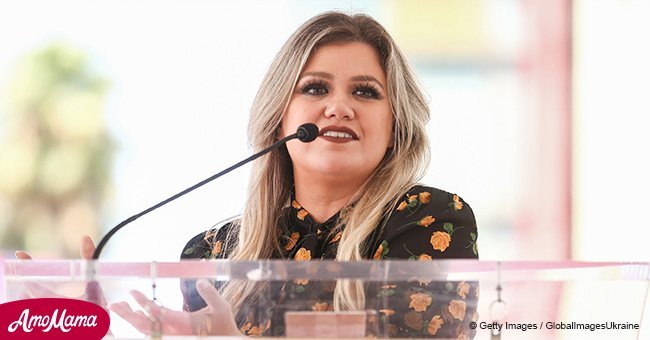 Kelly Clarkson displays amazing weight loss at Simon's star ceremony
"The Voice" coach Kelly Clarkson attended Simon Cowell's Hollywood Walk of Fame Ceremony on Wednesday and she blew away guests with her new trimmed-down figure.
Clarkson wore a black knee-length dress with a yellow floral print. She used a black belt to accentuate her toned waist. Her legs were covered with black stockings topped off by cream heels. The outfit truly brought out the singer's incredible transformation.
Extra reported that the "American Idol" winner, now 36, was joined by other singers including Adam Lambert, Louis Tomlinson, Katharine McPhee as well as her fiance David Foster.
When the Grammy award winner was asked to do a speech for Cowell she said she eagerly agreed.
"I said yes right away because I was so excited to be here for this because literally, we were right here 16 years ago when this man helped changed my life."
In her speech, ENews reported that Kelly praised the "America's Got Talent" judge for his abilities in finding "authentic people that have a raw talent and are really themselves and that's all they really know how to be." She continued:
"I think that is something that should be applauded and praised, in this industry especially."
When the Hollywood Star receiver himself stepped behind the podium, he joked around and asked why it had taken so long for it to happen. He followed it up with a quick just kidding directed at the Hollywood Walk of Fame Council.
Cowell's humility became more pronounced when he described his dreams as a young boy to have his own star one day, and how the experience was "so surreal I cannot tell you."
Cowell was surprised when the Hollywood Chamber of Commerce also granted that August 22nd would be known as Simon Cowell day.
Clarkson previously revealed what she did to lose the weight that allowed her to flaunt her stuff at the show. She told Extra a few months ago:
"I literally read this book, and I did it for this autoimmune disease that I had, and I had a thyroid issue, and now all my levels are back up. I'm not on medicine anymore because of this book, it's called 'The Plant Paradox' (by Steven R Gundry, MD)."
She summarized the book's contents:
"It's basically about how we cook our food, non-GMO, no pesticides, eating really organic... literally, I haven't worked out at all!"
While the idea of a dramatic weight loss without the need for exercise sounds especially enticing, Women's Health Magazine had a closer look at its claims and came to a more cautious conclusion. They said Clarkson's weight loss could just as easily be attributed to eating fewer calories.
Please fill in your e-mail so we can share with you our top stories!