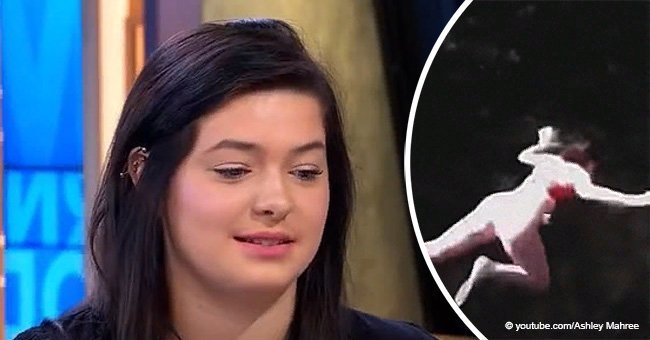 Teen who pushed friend off 60-ft bridge finally breaks her silence after horrific ordeal
The teenage girl who pushed her friend off a bridge has shared her side of the story that led to serious injuries and possible jail time.
On August 7, 18-year-old Taylor Smith pushed her 16-year-old friend, Jordan Holgerson, off the six-story high bridge over the Lewis River at Moulton Falls Regional Park near Vancouver, Washinton state.
Holgerson suffered serious injuries when she landed in the water, including wo punctured lung, five broken ribs, a bruised esophagus, and an injured trachea. On top of that, her entire body shows signs of bruising.
Now Smith has spoken up to explain why she pushed her friend in the first place, claiming Holgerson had wanted to jump but had been too afraid, and had ended up asking Smith to push her off the bridge.
She added that she had not "[thought] about the consequences" of her actions at the time. Holgerson has been in the hospital since, and when Smith tried to visit her friend, she was turned away.
According to the 18-year-old, Holgerson's reaction towards her has changed from being placating to refusing her phone calls and telling the media she wants her jailed.
Footage of Holgerson standing on the edge of the bridge shows the teen was hesitant, and kept saying "no" when Smith tried to metaphorically push her into jumping.
According to other friends on the scene, Holgerson stood there for 15 minutes before she was pushed. Smith claims her friend asked to be pushed, but Holgerson could be heard on the video asking her not to, and announcing that she was scared.
Holgerson has also told authorities that she did not want to be pushed.
"I went to the top of the bridge and my other –- my friend ... she came up to the bridge with me," Holgerson said. "And so, she was counting down but I didn't think anything of it. And I was like, 'No, don't count down, like, I won't go if you count down. I'm not ready.' And then she pushed me."
While Smith was getting impatient with Holgerson's indecision, two other friends on the scene kept telling Holgerson she didn't have to jump if she didn't want to.
Smith has since been charged with reckless endangerment, and has said she will accept her punishment. The charges could carry a sentence of up to a year behind bars and a $5,000 fine.
"I love that girl," Smith said. "I never intended to hurt her ever, nor would I intend to hurt anyone. I'm really sorry it turned out that way. I just pray that she heals and gets better."
Please fill in your e-mail so we can share with you our top stories!