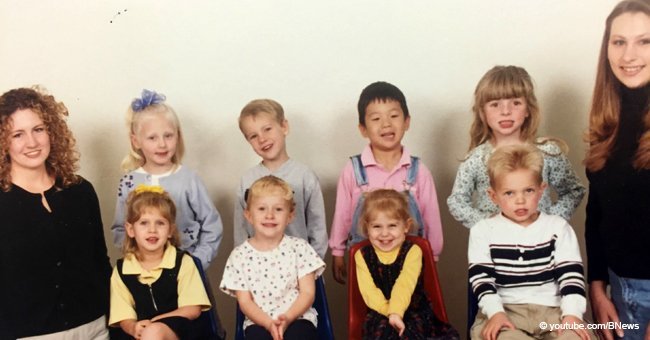 Husband finds wife's preschool photo and recognizes one of her classmates
Evan Ayers shared a surprising coincident of his life, which showed that soul mate somehow always wind up together.
Ayers shared a picture of his wife's preschool class photograph on Imgur and explained that the discovery of the picture made him realize that he was in the same preschool class as his now wife, but both of them had no idea about it.
He found the preschool picture of his wife, Brytin Waterlyn, while searching for a rice cooker. He recognized her instantly after looking at the photo. But what he saw next absolutely shocked him.
He saw that he was also in the picture, sitting right next to his now wife.
Follow us on Twitter to learn more.
The couple had met again after years, fell in love, and even married, but they didn't have a single clue that they had attended the same preschool together.
"We grew up a long ways away from each other, a few cities apart at least but it turned out that we somehow had gone to the same preschool," Ayers explained on Imgur.
Just to confirm it, and to clear his own doubts, Ayer contacted his mother so she could confirm him if the boy the picture was him. His mother agreed that it was him.
"We had both attended this same preschool when we were like 3-years-old. Mildly interesting to say the least," Ayers wrote.
Ayers noticed one more important detail about the photograph. Despite more than sixteen years have passed, his wife still had the same smile that she had in her childhood.
After the discovery, one can only imagine that the couple's relationship took a new height and they shared a stronger bond.
In another related story about a happy couple, a husband was found in filming his wife after she had her wisdom teeth taken out but hilariously refused to believe that the procedure was already done.
Please fill in your e-mail so we can share with you our top stories!