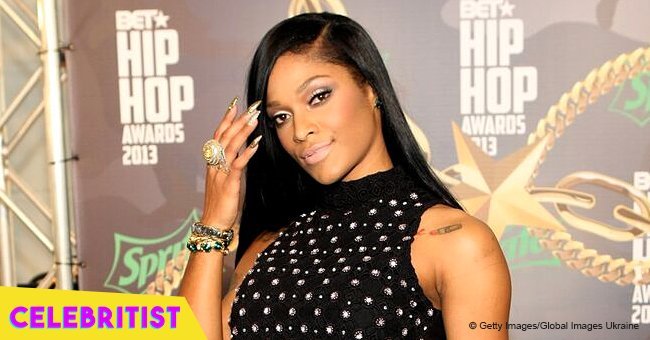 Joseline Hernandez gets slammed again over daughter's hair after sharing new photo of kid in hat

It's another episode of the Internet versus Joseline Hernandez and it appears she can do no right in some eyes. Thankfully, the TV personality still has loyal fans who will always defend her when the trolls come for her or her baby girl, Bonnie Bella.
Hernandez shared another picture of her and Bonnie, and some internet users have deemed it fit to drag her over the appearance of Bella's hair. The self-acclaimed Puerto Rican princess sported a black tube over her cleavage, and her blond hair provided a sharp contrast. Her mini-me looked adorable in a white outfit and a cute wide-brimmed hat to match.
Despite Hernandez indicating in her caption that the little girl was the love of her life, trolls attacked the reality star for keeping her hair unkempt.
Instagram user @kierra_monroe94 fired at Hernandez:
"If I'm looking good my child will too, I don't really see what so wrong about the baby maybe she doesn't know how to do hair or whatever!"
Another non-fan, @mzjazzythang31, wondered if the former "Love & Hip-Hop: Atlanta" star adopted her Bella:
"This little girl is so cute why don't you ever have her looking the part? Seriously I rarely ever see her not looking like a child that you just adopted from another country. If you can't do her hair then find someone that will."
One user cruelly referred to the one-year-old as "a hot mess."
Fans of Hernandez were also in the comment section to make their voices heard. @missjohnson21 warned trolls to back off the 31-year-old and her daughter:
"Ppl said the same about Beyoncé and her daughter hair longer than most of the grown [expletive]!! I find nothing wrong w/ that baby hair!! Putting too much tension on a child's head can cause traction alopecia!! In her Latin culture they love the lil hats and dresses so they need to leave her and lil Bonnie be!!"
Another user pointed out that what mattered most was the child's happiness. She said:
"Ppl always worried about what a celebrity child hair look like or how they're dressed and if it's expensive clothing, instead of looking at the fact that the child is happy."
One fan sent words of support and encouragement all the way from South Africa:
"I love that you dress your child like a child. Keep it up momma. With love from South Africa."
It is quite ironic that trolls are accusing Hernandez of keeping her daughter's hair unkempt. Only a couple of months back, the fitness entrepreneur was slammed after sharing a photo of her daughter with her edges laid. They claimed she was doing too much with Bella's hair.
By now, Hernandez has developed a thick skin against the cyberbullying. The single mom-of-one is staying focused on raising her child and running her new business. She is also scheduled to star in her WeTV-produced reality show, "Joseline Takes Miami."
All the best, Hernandez!
Please fill in your e-mail so we can share with you our top stories!