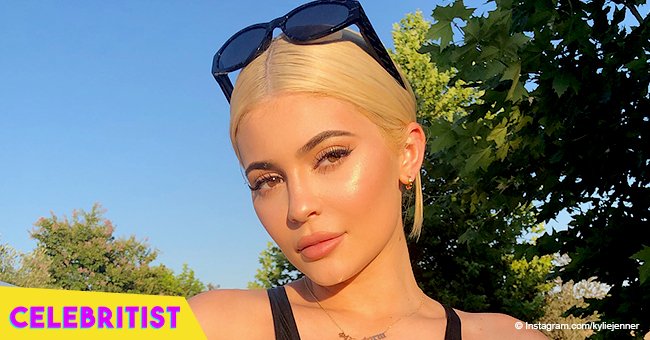 Kylie Jenner and baby daughter rock flower crowns in adorable Snapchat pic
Kylie Jenner continues to delight fans with glimpses of her daughter by sharing a new clip of the two of them with matching flower crowns. The protective mom appears to have changed her mind after resolving to keep her daughter away from social media a few months back.
Kylie Jenner just shared another adorable selfie with her baby daughter Stormi on Snapchat. On Friday, the mother and daughter appeared to be bonding as the makeup maven posted a video of the two of them wearing matching flower crown filters.
Six-month-old Stormi delighted fans by looking straight into the camera for a split moment before turning her face away to nuzzle her head against her mother's neck.
The short clip comes shortly after Stormi's father, Travis Scott shared photos of the two of them spending quality time on a lounge chair at a building's rooftop. The fun images featured Travis playing with his daughter who wrinkles her face and appears to be enjoying the moment with her dad.
"Big mood! Teach my stormi to love," Travis wrote and added, "I'll forever protect that smile."
On a separate post from the same location, Kylie is seen posing with her daughter in another lounge chair. Dressed in a white bathrobe, the new mom appeared to be whispering something to her daughter who seemed to lap up whatever she said.
The parents' efforts at providing glimpses of their child on social media lately is a contradiction to their earlier resolve to keep their baby away from prying eyes. In June, Kylie announced she was no longer sharing images of her daughter's face. However, she appeared to have changed her mind this month when she kicked off her birthday with a tribute to her daughter. She shared a mother-daughter portrait the day before her birthday and wrote,
"Bringing in my birthday tonight with my most special gift. What was life before you, Stormi. I love you my little angel,"
Since Kylie realized she was pregnant with Stormi, she made it her mission to keep the little girl away from the public. In fact, she kept her pregnancy a secret until the day Stormi was born. She was also very careful about sharing glimpses of her relationship with Travis, making a conscious effort not to be photographed together as much as possible. In July, she revealed Travis wasn't fond of all the media attention, so he keeps away from public events with Kylie. However, Travis seemed to have relaxed a little when he agreed to film "The Kylie Quiz" for GQ magazine where he gamely answered questions thrown to him by Kylie to find out how well he knew the mother of his child.
Please fill in your e-mail so we can share with you our top stories!