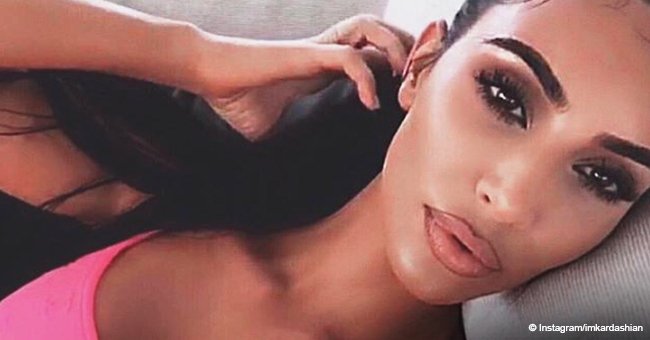 Kim Kardashian's baby daughter Chicago steals hearts with cute ponytails and white outfit
Kim Kardashian is recently photographed out on the streets with her youngest daughter Chicago who looked adorable in her mother's arms. The reality star who visibly lost weight is rumored to be gearing up for a fourth child, just seven months after welcoming Chicago via surrogacy.
Often photographed with her older daughter North, Kim Kardashian surprised many when she showed up in paparazzi photos tending to her seven-month-old baby girl, Chicago.
On Thursday, the 37-year-old was featured in a series of snaps published by The Daily Mail, holding on to her pretty little daughter she welcomed in January via surrogate.
Chicago's latest sighting with her mother comes in the heels of reports the Kardashian star made her daughter North sit at another table with a nanny while she was filming for her show "Keeping Up With The Kardashians" in Miami last week. Kim reportedly didn't want North to be featured on the show despite having appeared in it several times in the past.
In latest photos with her youngest, however, Kim appeared to be oblivious to photographers who captured her every moment with her. Chicago looked cute in a white outfit and her hair tied in two knots. She was seen being taken out of her car seat by her mother who descended from her Range Rover SUV. Kim looked sporty in a black workout suit and white trainers and wore her hair slick straight and parted in the middle.
Kim has been noticeably thinner these days, thanks to a fitness routine she began almost a year ago in September. She told E! News last week that she already lost 20 pounds since embarking on her training which involves an hour-and-a-half a day of heavy weight lifting and minimal cardio. The star proudly revealed she now weighs 116 pounds after weighing 140 for so long. Kim also revealed she cut down on sugar and junk food.
Meanwhile, Kim is reportedly making plans for baby number four with her husband Kanye West. She doesn't need to worry about gaining weight when that happens since she intends to take the surrogacy route once more, just like with Chicago. However, when asked about it, she didn't confirm the rumors. She admitted being open about having another baby but insists as of now, she has no plans. She's probably still enjoying her baby Chi whose sweet photos on her Instagram has been a sight for sore eyes. In May, Kim shared a snap of her little infant lying on a blanket and she looked so much like her mother. No doubt, just looking at her beautiful offspring is enough to make her want more.
Please fill in your e-mail so we can share with you our top stories!