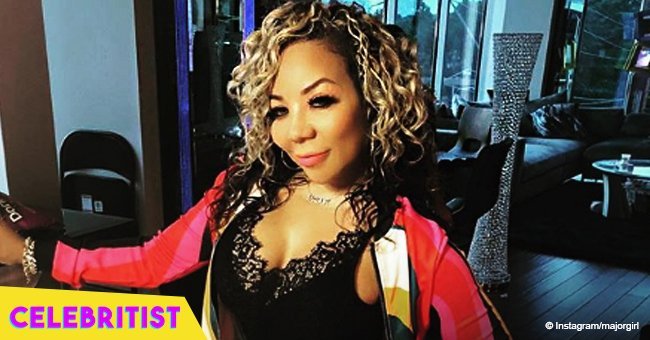 Tiny Harris melts hearts with pic of T.I. and daughter Heiress on 'father and daughter spa day'
Tiny "Tameka" Harris took to Instagram to share yet another photo of her cute daughter, Heiress Harris enjoying a spa day in the company of her parents. New details have also emerged about why Tiny refuses to leave her husband T.I despite the numerous cheating accusations.
The Instagram post was a slide that included one heartwarming video as well. In the recording, Heiress sat on a grand couch in her oversized pink robe. She looked charming as she wiggled her teeny toes before the lady giving her a pedicure.
Don't think Heiress has no clue of what is going on either. She informed her mother in a voice quite distinct for a two-year-old:
"Mommy, I'm getting my toes done"
Another photo in the slide showed the Tiara-wearing princess flanked by her famous parents, rapper, T.I, and singer, Tiny, all smiles.
Meanwhile, both parents have been in the news lately and not for the best reasons. Tiny celebrated her 43rd birthday in July, a few weeks after her husband was caught on video acting inappropriately with another woman, and just yesterday, Hollywood Life reported exclusively that the pair has trust issues.
Their source revealed:
"Tip and Tiny have always had major trust issues, on both sides. …Jealousy is one of the things they fight the most about, but also one of the things that makes their relationship so passionate, as messed up as that may be."
Despite the many speculations of separation and divorce that have trailed the duo throughout their eight-year marriage, Tiny and T.I are said to be still crazy about each other:
"A lot of people can't understand their marriage, and have told Tiny she should leave Tip, but it works for them, and for all their fighting and drama, at the core they're tight. …They have each other's back. They're a family, and always will be."
It sounds like the two are comfortable with their love!
Please fill in your e-mail so we can share with you our top stories!