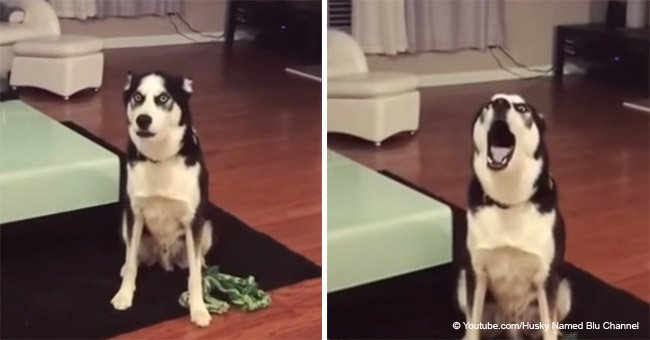 Howling husky throws a major tantrum to get out of trouble
A husky was caught on camera 'arguing' with his owner and the result was nothing but amazing and hilarious. You can check out the video down below.
The dog, named Blu, can be seen sitting in the middle of a wooden-floored room with a box in front of him as a woman, whose identity is yet to be revealed, scolds him.
In the Instagram video, Blu tries to use his cuteness and loud howls to make an argument for himself as he tries to muffle his owner's angry voice.
The chatty husky is very adamant about not letting the woman get a word in as she asks him who was responsible for destroying the carton box on the floor.
Follows us on our Twitter account @amomama_usa to learn more.
MAN'S BEST FRIEND
Animals can be great companions but they can also be quite a handful and get into a lot of trouble, which, eventually, ends up with something getting broken.
In Blu's case, and according to the caption found in the video, he was trying to help his 'dad' by eating the box containing car parts before 'mom' saw it.
HE JUST WANTED TO HELP
Apparently, the male owner has been spending a lot of money on car parts, so Blue believed that he could solve the problem by simply chewing the box to shreds.
But, instead of being considered a good boy, Blu was scolded by his 'mom,' who didn't appreciate the fact that the Husky had damaged the box.
MUST BE A HUSKY THING
The husky can be seen yowling over the woman's voice the entire time; by the end of the video, Blu approaches one of his owners but still howling, although in a quieter tone.
The clip ends with Blu being called a bad boy for damaging the car box parts. But dogs can be more than messy fuzzballs. For example, a husky named Cymber recently went viral after allowing a butterfly to rest on his snout and the internet suffered an overload of cuteness.
Please fill in your e-mail so we can share with you our top stories!