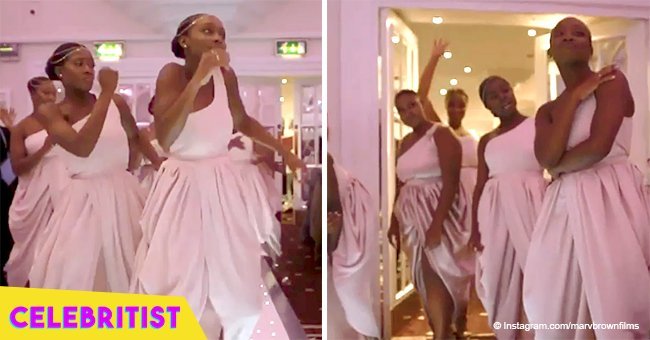 Bridesmaids make fiery 'Level Up' reception entrance in viral video

These days, weddings are never about the bride and groom only, and a basic search on social media will convince you of that. Another bridesmaids' entrance video has gone viral on social media, and the ladies are giving "Level Up" singer, Ciara, a run for her money.
The bridesmaids at Theo and Alethea Luwero's wedding did not come to play as they burst onto the scene oozing energy. The seven ladies started off with a coordinated dance to R.Kelly's "She's Got That Vibe" before orchestrating a smooth transition to Ciara's song "Level Up."
The wedding guests gathered inside London event venue, "The Decorium," went wild as the bridesmaids performed the viral dance accompanying Ciara's latest song. Clothed in single-strap pink dresses and glittering heels, the ladies proved they could coordinate in dance steps as well.
The "Level Up" fever has been catching on since Ciara released the video to her new song in July. The singer created a #LevelUpChallenge that tasks social media users to recreate the dance steps seen in the video, as well as identify three areas in their life where they hope to make improvements.
The challenge has since gone viral, with various celebrities like Serena Williams, Kelly Rowland, and Janelle Monae taking to Instagram to share areas of their lives in which they intend to level up.
"Girls Trip" actor and comedian, Tiffany Haddish, also teamed up with "Marlon" star, Bresha Webb to show off her dance moves. The duo also identified three ways in which they plan to do better for themselves.
Meanwhile, we hope to continue seeing bridal party entrances that are mind-blowing. Not too long ago, Val and Dido Dilenga's bridal party thrilled users across the internet with their synchronized dance steps.
Consisting of a bridesmaid and groomsman each, the bridal party swayed to the tune of "I do" by Kenyan artist Willy Paul.
Here's wishing Theo and Alethea Luwero all the love and happiness there is!
Please fill in your e-mail so we can share with you our top stories!