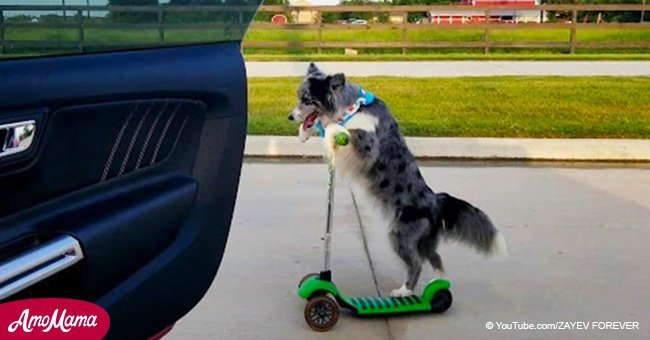 Dog shocks users by showing off its scooter riding skills

The internet has compelled many all over the world to take up crazy challenges. But they're usually reserved for humans. In this video, a dog beats everyone at the "In My Feelings" challenge.
The 7-year-old border collie named Supra has apparently been training for months to do what is also known as the "Shiggy Challenge." For this one, people mime along to Drake's song "In My Feelings" in a vehicle before getting out and dancing just outside the passenger door.
Metro reported that the Supra's owner, Ana Guzman is the one guiding the dog as it crushes the challenge, walking alongside a moving car before hopping onto a scooter and riding it.
Guzman, who also owns Unstoppable K9's which is a dog training and boarding center, posted the video online. She explained to KHOU News how Supra mastered his incredulous performance:
"This scooter trick, in particular, took us about like six to seven months and now this girl wants to ride her skateboard or scooter all the time. She loves it."
The family lives in Manvel, Texas. But distance has never been a factor when it comes to internet challenges. So why did they do it?
Husband Gabriel Gomez said:
"We just wanted to be part of the challenge in a funny and cute way. We love our girl so much."
And the internet appears to love her too. The video has racked up over 10,000 views since it was posted, and Supra has been watched hundreds of thousands of more times in other videos showcasing the challenge.
The staggering numbers make sense since the song has actually broken records. According to Forbes, "In My Feelings" broke the US streaming record with over 116.2 million individual domestic streams in July 2018 during a single week.
The previous holder was Baauer's "Harlem Shake" way back in March 2013. It was streamed 103.1 million in one week.
Not everyone is enjoying the challenge though. The National Transportation Safety Board (NTSB) tweeted a warning to the public about pursuing the challenge
"We have some thoughts about the #InMyFeelings challenge. #Distraction in any mode is dangerous & can be deadly. Whether you are a #drive, #pilot, or #operator, focus on safely operating your vehicle."
Please fill in your e-mail so we can share with you our top stories!