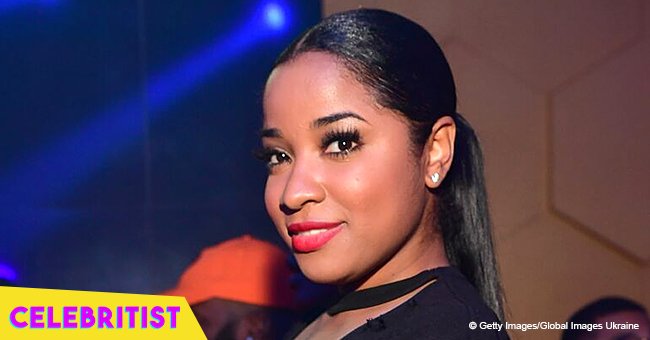 Toya Wright's baby daughter gets slammed over her eyebrows in pic shared by her older sister

Reign, the baby daughter of TV personality and rapper Toya Wright, was mocked over her eyebrows in a recent photo uploaded by Reginae Carter, Toya's eldest daughter.
In the post, Reginae was portrayed sitting on a couch wearing a colorful suit with a tree-like design all over it while playing with her baby sister, Reign, who was wearing very similar clothes.
Both of them looked very happy and excited for being next to each other, an aspect that gave the picture a loving touch. As soon as that photo was uploaded, Reginae's fans and followers took to the comment section to share their thoughts.
One of them was Instagram user @creolequeen65, who admitted that Reign was "such a beautiful baby. User Nina Harris chimed in and said that the baby was adorable.
Even though most people praised Toya for having such beautiful children, some others wrote very negative comments over the girl's eyebrows. @_dancefeen said that, while Reign was gorgeous, her eyebrows were "scary."
@lex.716 added that Reign had a "funny look" and that even without her "monkey eyebrows" she looked "weird." They ended their spiteful comment writing that not every baby was cute.
TOYA'S DEFENDING REGINAE'S NAME ON SOCIAL MEDIA
The photo wherein people were messing with Reign's eyebrows was uploaded a couple of days after Toya replied to one of the Instagram users who misspelled Reginae's name in a recent post.
In the image that triggered the incident, Reginae was wearing a tight black outfit, long braids, shiny sunglasses, and beautiful boots.
One of the users wrote: "You and resume [Reginae] got the same beautician." Even though it might have been just an autocorrect issue, Toya quickly replied to that comment urging her to stop playing with her daughter's name.
PEOPLE SHOULDN'T MESS WITH TOYA'S CHILDREN
"It's one thing to say that dumb [expletive] under the blog comments but don't try it under mine. It's REGINAE' now Put some Respect on it," wrote Toya.
That might have made people want to think twice before disrespecting Toya's family in her own Instagram account.
Please fill in your e-mail so we can share with you our top stories!