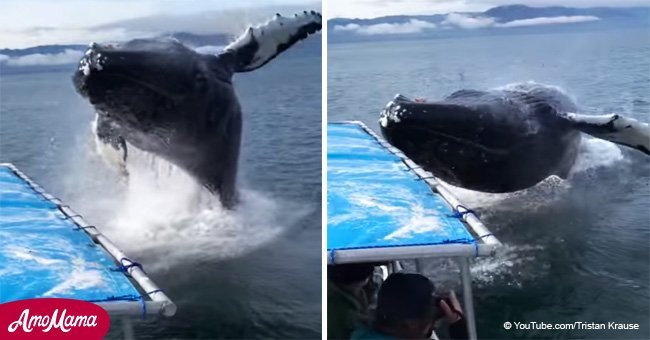 Incredible moment massive humpback whale drenches tourist boat with water
A group of whale watchers in Southeast Alaska experienced an unimaginable encounter last Monday near Pleasant Island.
Tristan Krause captured the rare moment a humpback whale made a splash in the water, soaking all those on board. The first half of the video shows a peaceful scene, with one lone whale near the surface a distance away.
Soon after, a whale just a few meters away from the boat leaps out of the water and re-enters on its back, causing a massive splash. The video shows the surprised whale watchers as loud laughter is heard in the background.
Follow us on Twitter for more @amomama_usa.
KTUU reported that the group was more than happy to get soaked in return for the awe-inspiring moment. And no one was injured during the event.
The video has already collected nearly a quarter million views on YouTube. Though they can't see it in person, viewers commented on their appreciation for the beautiful creature's surprise jump as well.
According to National Geographic, humpback whales weigh up to 40 tons and grow between 48 and 62.5 feet in length. They are known for their magical songs underwater, and for making a splash now and then.
Earlier in August, a mother whale and her calf were joined by several dolphins in a stunning display of kindness by the beautiful creatures.
Five male whales competed for the attention of a female whale as she traveled with her calf in the waters of Flinders Bay on Western Australia's coast.
With the assistance of 10 to 15 bottlenose dolphins, the males eventually left the female, keeping the young calf safe from separation and imminent danger. Only one male remained to escort the two on their way.
Source: YouTube
Another whale splash was made in Australia in June 2018 when a family vacationed on the oceans of Port Macquarie, Australia. They saw a whale splash in the distance and the mother decided to start recording, hoping to get some more action.
What she didn't expect was for a whale to breach the waters just in front of her family's boat, soaking all those in the front, and leaving the family with a once in a lifetime experience they'll not soon forget.
Please fill in your e-mail so we can share with you our top stories!