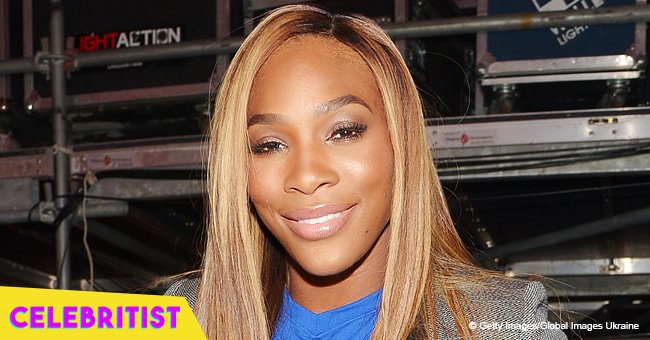 Serena Williams' daughter steals hearts in blue striped swimsuit in recent picture

Ahead of her return to the US Open, Serena Williams spends quality time with her daughter, sharing a photo of her in a swimsuit. The multi-tasking mom is set to impress in her upcoming tournament but makes sure her daughter isn't left out.
Serena Williams has easily become a champion for mothers who aim to find a balance between work and family. Since returning to tennis after welcoming her 11-month-old daughter, Olympia, Serena has been open about the struggles she's faced trying to keep up with the demands of her sport and her child.
But no matter how tough those demands may be, Serena has been consistent in doing her best to satisfy both passions. When she's gearing for a tournament, she makes sure her daughter gets as much attention from her. Such was the case recently when she shared a photo of Olympia just days ahead of the US Open where she's gunning to bag her 24th Grand Slam title.
Olympia was dressed in a blue-and-white striped swimwear in the photo her mother shared. No doubt Serena was taking her swimming before things get busy for the tennis superstar. She's expected to impress in the US Open this year after sitting out last year's tournament because she was pregnant with Olympia.
Olympia's swimsuit snap is a testament to the kind of mother Serena is. One who dotes on her daughter despite the pressure building up ahead of a tournament.
A few days later, Serena also shared another photo where she's hanging out with her daughter in an alley in New York City where the US Open is taking place. Serena flexed her leg muscles as her daughter patiently sat in her stroller looking adorable towards the camera. The multi-tasking mother clearly had her tournament in mind while tending to her daughter as she tried to put in some workout during their stroll.
In her caption, Serena took the opportunity to share another story to her followers highlighting her struggles as a mother that humble her. She wrote,
"Kids humble us. The other day on a flight home Olympia had so much energy and insisted on running up and down the aisle. When I finally got her to calm down and sit still, she threw up all over me and in the aisle. #ThisMama wants to remind all mothers the importance of supporting one another through the highs, lows, laughs and tears."
Serena's stories about her daughter are endless. That's because any chance she gets, she dotes on her and involves her in most anything she does. She even exposes her to different cultures and one time shared a video where she's speaking to her in French. Just this month, Olympia joined her mother and her father, Alexis Ohanian on a trip to Italy on a whim. Her mother felt like having Italian and so her father obliged. Olympia is certainly one of the luckiest babies in the world with globe-trotting parents like hers.
Please fill in your e-mail so we can share with you our top stories!