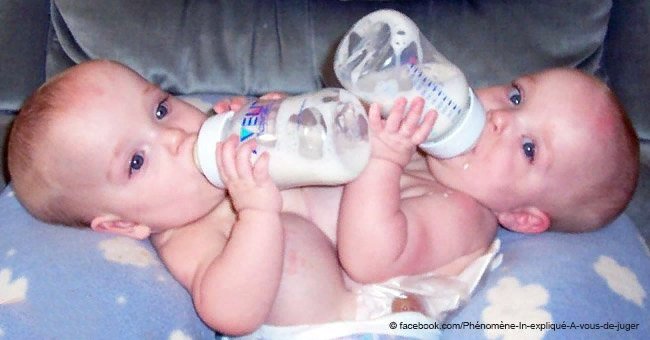 The most unusual triplets in the world turn 16. Here's how these beautiful girls look now
Sisters Macy, Mackenzie and Madeline celebrated their 16th birthday last year. They are very unique triplets since two of them were conjoined at birth.
As Newsner reported, the triplet's biological mother did not visit any doctors during her pregnancy, so she wasn't expecting to give birth to triplets. After finding out about it, she and her partner decided to give them up for adoption.
Macy and Mackenzie were born conjoined, the two sharing the third leg. The babies were in constant pain and were separated during a multiphasic operation in 2003. Read more on our Twitter account @amomama_usa
A generous and loving family from Iowa decided to welcome and adopt the three little sisters. They had three biological children and regularly offered a temporary home for abandoned or "medically fragile" children.
"We had no idea what to expect – but they only needed someone who loved them. We got Madeline when she was four days old and Macey and Mackenzie came to us after four weeks," Darla told Closer in 2011.
Years have gone by and the triplets are already 17 years old, and they have developed incredibly despite the difficulties.
"The girls have succeeded through hard work and the commitment by their family. Their progression is wonderful and inspiring."
-Dr. James Stein, People, July 18, 2013.
Their foster parents, Jeff and Darla Garrison, said they are normal teenagers who love Justin Bieber. Her mother said with a smile that she appreciates that they have already got over his music.
In 2013, Darla told People magazine how big of a challenge it was for Macy and Mackenzie to try to use prosthetics. She said that they experienced "balance problems", and that they had to receive a lot of training.
Darla also said that the ostomy bags that the girls had to use and change frequently was yet another challenge for them.
"It's a lot of responsibility for a child," he added back then when the children were 12.
They had to make sure that everything remains intact and not play too hard. But Darla can't but recognize that modern medicine "has allowed them to be alive," even though they had to take extra measures to keep going.
Macy and Mackenzie do all they can to be like any other teenagers and take part in activities at school and at home. They also have a list of household chores that they must complete.
The three sisters have a horse they must take care of, and Darla said that Mackenzie really wanted to ride skateboards or skates, although she would rather convince Mackenzie to try riding a bike instead.
Conjoined twins are born when they don't get to separate completely in the womb during pregnancy. The union occurs due to a problem in the development of the cells of monozygotic embryos, according to the Mayo Clinic.
The division of the cells occurs later, in the case of conjoined twins than when it happens with regular twins, and as more time passes, more organs will be shared. It is not a genetic defect, but a mutation during the development of the embryo.
Please fill in your e-mail so we can share with you our top stories!