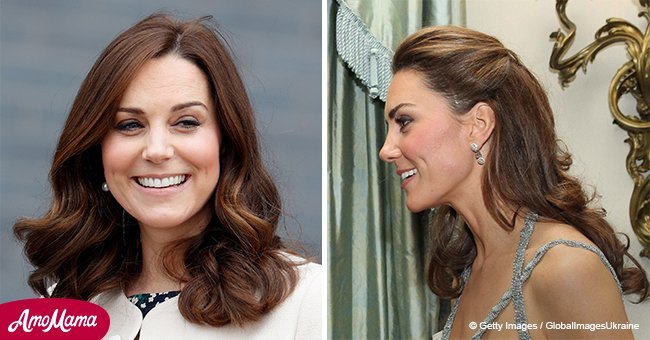 Daily Mail: Here's the reason behind the scar on Kate Middleton's head

The palace released a statement that explains why Kate Middleton has a scar on her head. They claimed it was from a childhood operation.
The 36-year-old Duchess of Cambridge exudes a level of class, style, and personality that most would love to embody. But even she is not the epitome of perfection.
To be fair, no one is. So the existence of a three-inch mark on the left side of Middleton's head shouldn't be too crazy a reality.
Regardless, royal watchers back in 2011 noticed the scar and jumped to a conclusion. According to Daily Mail, they attributed it to a bad hair extension job at the time.
Follow us on Twitter for more @amomama_usa.
So eager was the public to know, and so persistent the rumors, that the Kensington Palace felt compelled to clear speculations.
A palace spokesperson told E! News that "the scar is related to a childhood operation."
But the public was still not satisfied, requiring an explanation for that statement too. They wanted to know what the surgery was for.
But that was the end of the line for the palace, who said that the matter was "private" and offered no further explanations. So people looked to the royal experts.
Some said it was "serious," while others have said the total opposite. Consultant surgeon John Scurr does not think it's a big deal at all.
He told The Sun:
"I really doubt it was any serious medical condition and I would say it is as a result of an arteriovenous malformation - a birthmark - being removed."
Whichever explanation is true, Middleton is not keen on proudly displaying her scar. She usually has it cleverly hidden under her brunette locks.
Middleton's husband Prince William also has a facial scar. He has no choice but to proudly display it as it is just above his left eye and on his forehead.
The Duke of Cambridge calls the scar his "Harry Potter scar because it glows sometimes and some people notice it - other times they don't notice it at all."
He said he got the scar during a session of golf when a "seven-iron came out of nowhere and hit [him] in the head."
Please fill in your e-mail so we can share with you our top stories!