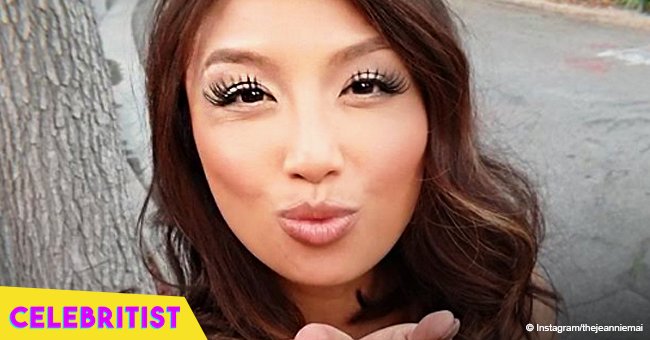 Jeannie Mai shows off stomach tattoo and fuller curves in beach photos after weight gain
Jeannie Mai, better known for being one of the co-hosts in "The Real" is rocking a fuller and curvaceous body these days. The 39-year-old recently confessed her struggles with weight and how she has been able to work on her self-esteem and body with new found confidence.
After keeping a slim figure for the twelve years she has been in the entertainment industry, Jeannie Mai realized that she wasn't happy with what she saw in the mirror and decided it was time to make a significant change in her life.
Now, after dedicating time and dedication in the past few months to gain muscles and a fuller body, Jeannie is looking incredible, and she's not shy when it comes to sharing her results on social media. The star recently posted a series of bikini photos on Instagram, and fans were left stunned with her figure.
In the pics, Mai is wearing a two-piece royal blue bikini, a vizor, and a golden necklace as she makes her way out of the beach. She also laid on the sand and posed to the camera showing off her toned legs, abs, and belly tattoo.
"Walk to Remember and not the one starring Mandy Moore," she captioned one of the shots.
Fans immediately took to the daytime host comment section to share their thoughts on the pics. One user wrote "Wow!!! You can see how hard u had worked on your body. It looks fantastic," another added, "Gurl the gym and working out is paying off!! Looking great!!!," and a third one agreed "Looking hella thick and fine."
MAI'S FITNESS AND HEALTHY JOURNEY
Three months ago, Jeannie opened up in social media about her struggles with weight. The star did so by posting a side to side picture wearing a metallic bronze dress before and after she started to work out and eat more. She wrote:
"On the left is the first time I tried on this dress, at a weight I've kept for 12 years, 103 lbs. Staying 103 came from my self-control to lose 'chubby' teenage weight and a stressful idea that my body was built to look best 'thin.' As I'm nearing my 40s, I realize that I've been thru so much s— mentally and emotionally, why the hell should my body be forced to suffer (from my over controlling ways) too?"
Mai revealed that she had gained 17lbs after starting a new eating plan and training program, and admitted that while she doesn't have a precise weight goal, she just wants to be physically and mentally stronger.
Talking to Shape, Mai offered a piece of advice for women who are struggling to love themselves because of the numbers on a scale, saying:
"Feeling good about your body and feeling sexy comes from within, not from a number on the scale. Your body is just an extension of who you are. Treat it well, be kind to it, and just enjoy life. That's where true satisfaction lies."
Please fill in your e-mail so we can share with you our top stories!