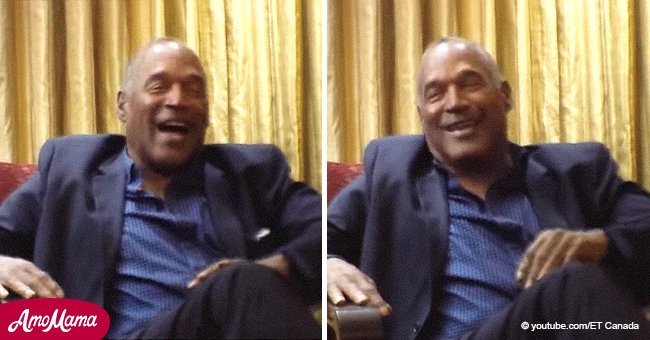 O.J. Simpson laughs during faux interview about killing girlfriends

Comedian Sacha Baron Cohen, who rose to fame as Ali G and Borat Sagdiyev, put O.J. Simpson in the hot seat for his show, "Who Is America?"
The controversial show has thus far tricked a host of politicians such as Roy Moore and Dick Cheney into embarrassing themselves on television.
For the latest segment, it appears as though Cohen, dressed as an Italian billionaire, tried to get a confession from Simpson about his ex-wife's murder.
Read more on our Twitter account, @amomama_usa. You can see a short segment of the interview at the end of this article.
Cohen's character, Gio Monaldo, introduced Simpson to his Italian girlfriend. She didn't recognize him at first despite "Monaldo" detailing Simpson's sport's accomplishments.
It was only when he made a stabbing motion with his hand that "his girlfriend" recognized Simpson. The former convict laughed uncomfortably and said:
"She knows that! Oh, Jesus! Help me!"
Cohen didn't let up and even told Simpson that he wants to kill his girlfriend by possibly cutting a bungee jumping cord or making the cord too long.
He also said that he killed his first wife and then told Simpson that she was so depressed, she climbed into a bag of rocks and dragged herself out to sea.
Cohen then told Simpson that a friend is obsessed with his murder case and wants Simpson to be "100 percent truthful" about how he got away with the murder.
At this stage, it was clear that Simpson was uncomfortable with the direction the interview was taking. He responded:
"Well, first of all, she wasn't my wife. We had been divorced and separated for two years. I didn't 'get away' with nothing. [...] I didn't kill nobody."
His lawyer has since said that Simpson knew it was Cohen and was just playing along with the prank. He saw Cohen's legal pad with notes written on it.
Simpson was acquitted of his ex-wife's murder in 1995 but was sentenced in 2008 for an unrelated crime.
He was released from prison in October 2017 after serving a nine-year sentence for kidnapping, criminal conspiracy, and robbery.
Many people don't know that Simson lost a child while he was still married to his first wife, Marguerite Whiteley.
Their daughter, Aaren, drowned in a swimming pool back in the late seventies, just one month before she would have turned two.
Please fill in your e-mail so we can share with you our top stories!