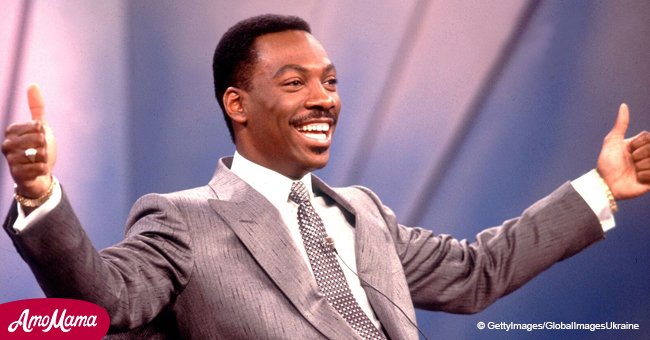 'Beverly Hills Cop' star, 57, expecting child for the 10th time
Well-known actor and comedian Eddie Murphy is said to be expecting his 10th child. This would be his 2nd one with his partner.
The child, whose sex hasn't been revealed, is expected in December. The actor's partner was photographed recently with her baby bump showing.
Eddie Murphy, 57, will have his 10th child with partner Paige Butcher, 39. This month she debuted her baby bump while in Los Angeles.
"Eddie Murphy and longtime girlfriend Paige Butcher are pleased to announce that they are expecting their second child in December," a representative for Murphy said in a statement.
For more on this story go to our Twitter account @amomama_usa. The Australian actress was pictured wearing a floral maxi dress that made her growing belly visible.
Her hair was styled down and she wore comfortable flip-flops while enjoying a Starbucks beverage. She and Murphy have been together since 2012 and already share a daughter Izzy Oona, 2.
Murphy's oldest child is a son, Eric, 29, whom he had with Paulette McNeely. The star's second born is 27-year-old son Christian with Tamara Hood.
His other children are daughters Bella Zahra, 16, Zola Ivy, 18, Shayne Audra, 23, and Bria, 28, plus 25-year-old son Miles Mitchell with ex-wife Nicole Mitchell Murphy. He also shares 11-year-old daughter Angel Iris with former Spice Girl Mel B.
In 2016, Bria took to Instagram to share a family photo of herself, her siblings, and her father and Butcher. At the time, Izzy had just been born a couple of months earlier.
In November of the same year, Murphy spoke about his children while supporting Bria at her art show in Los Angeles.
"I'm glad that people get to see how talented she is," he said. "We've known for years how talented she is. It's exciting to see her stuff up on the walls. I'm having all those proud parent feelings," the star continued.
The actor added, "I really got lucky with my kids. There really isn't a bad one in the bunch, everyone turned out to be really good people."
He shared that none of his children were like him and that they were also "totally different from each other."
"None of them are chips off the old block. They all have their own thing, They're good kids," Murphy said of his children.
Please fill in your e-mail so we can share with you our top stories!