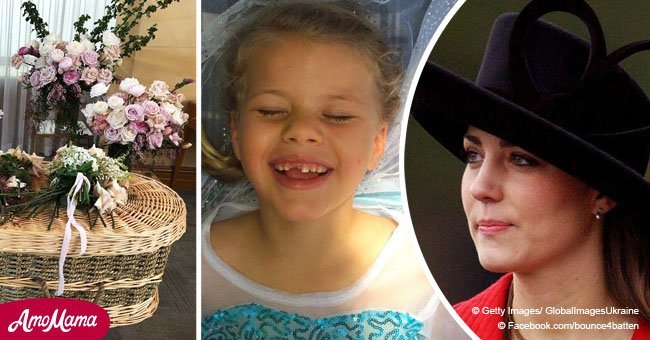 9-year-old girl who made Duchess of Cambridge laugh has died of rare disease
Mia Murchison's family announced that she passed away on after battling Batten's Disease which left her unable to walk, talk, eat or see.
In an endearing Facebook post by Peta Murchison, Mia's mom, the 9-year-old's last day was described as the "saddest and most beautiful day."
Four years ago on a Royal visit to Australia, Mia had made the Duchess of Cambridge join her in giggles when Mia tried to steal away Middleton's flowers.
The Duchess attended the hospice at Bear Cottage Manly, a Sydney suburb. She took pictures with Mia and her brother Toby, then just two.
According to the Bounce4Batten website, she had even stooped down to engage the little girl after allowing her to keep the flowers.
And when Mia said "baby," Middleton graciously responded, "Yes, I have a baby, baby George."
Mia and her brother Toby had even performed together for Middleton. They sang "Twinkle, Twinkle, Little Star," and Toby was reportedly "very excited" to perform in front of a "real princess."
The family's photos that day were taken by award-winning photographer Marieke Jongerius. The snaps and interactions with royal attendees left them with "very special memories" from that day.
For Mia, who suffered memory loss as part of her debilitating disease, one hopes she might have recalled the special occasion.
The young girl endured symptoms of the CLN2 disease, one among a group of disorders referred to collectively as Batten disease.
On Tuesday, August 28, the family held a public memorial service on the northern beaches of Sydney.
Mia's parents set up a GoFundMe page which takes contributions in her name for charities that influenced her life. So far, over $38,000 has been raised.
"The love that Mia gave & the joyfulness that everyone experienced through Mia's life is her gift to us all. However in the six years since Mia's diagnosis there have been countless supporters, champions, advocates, friends and professionals who have extended themselves for Mia and our family. We would like to recognize and support the organisations that supported Mia's joyful life."
Proceeds will go to the Riding for Disabled Association of Australia, Bear Cottage, Guide Dogs Australia, and Batten Disease Support and Research Association.
The start of Mia's life showed no indication of what was to come. Born in Dublin, Ireland, Mia was a strong, healthy tot who crossed all the usual developmental milestones.
At three years old, she suffered a seizure in Singapore. She was primarily diagnosed with epilepsy, but with the increased occurrence of seizures, language, and memory deterioration, doctors eventually diagnosed her with Batten disease in 2013.
Mia's family now lives in New South Wales after moving from Singapore.
In the Facebook post, they remember Mia for all the joy and laughter she shared with others:
"I was never going to ready for this goodbye but it was heavenly and more beautiful than I ever could have imagined. So raw and honest. Our family all coming together to cry, laugh, sob and honor our little girl."
They even affectionately describe the casket that holds their late daughter: "Mia's casket had a simple wooden nameplate that we will keep forever.
"I never thought you could like a casket but hers was so beautiful covered in flowers and so very Mia. I loved it."
The drive to the funeral was remembered as their "final family adventure together with Mia."
Please fill in your e-mail so we can share with you our top stories!