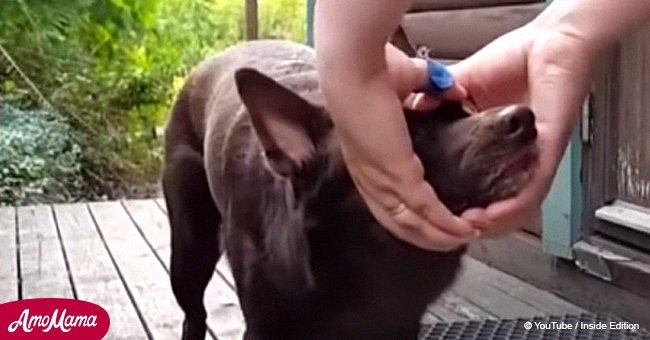 New hilarious game among pets and owners becomes the internet's cutest challenge

The "snoot challenge" is wonderful news for netizens who thought the internet only exists for cute cat pictures.
As reported by Inside Edition, the new challenge that lets pets join the online fun is easy to master, although some pets need practice first.
The rules are simple: Open your hands in the shape of a circle or heart and watch as your pets try to put their noses through the hole.
It works on all animals too, not just dogs. A step-by-step instruction video can be seen below.
Read more on our Twitter @amomama_usa.
The viral internet craze spread across the globe in a matter of weeks, and people are taking to social media to share their results.
As can be seen from their hilarious video clips, the challenge is suited for all sizes of pets, regardless whether furry or feathered.
Shipley Doodle, an Instagram account dedicated to an adorable poodle mixed breed, shared a video clip with Shipley's 7,100 followers.
The caption, written from the dog's perspective, reads: "Mom and dad were impressed with my first attempt at the [snoot challenge.]"
Not to be left behind, Mia The Corgi from Melbourne also stole hearts when she tried the challenge with three shapes: a circle, a heart, and the "Nike" mark.
TV wildlife host and producer, Anneka Svenska, took it to another level by doing the challenge with a slice of bread with a hole in the middle.
Her adorable pooch didn't need a second invitation and rushed over to push his snoot through the hole.
Anette Mod from Finland tried the challenge with her bunny, who didn't disappoint. She added the hashtags "snoot challenge" and "nailed it."
It isn't known when or how the challenge started, only that it's been around for a while and gained popularity earlier this month.
If your pet doesn't have beginner's luck, try placing an edible treat "inside the hole" on the palm of your hand.
Not all pets will master the challenge, and that is fine too. Dogs who show no interest in the challenge should not be forced against their will.
Please fill in your e-mail so we can share with you our top stories!