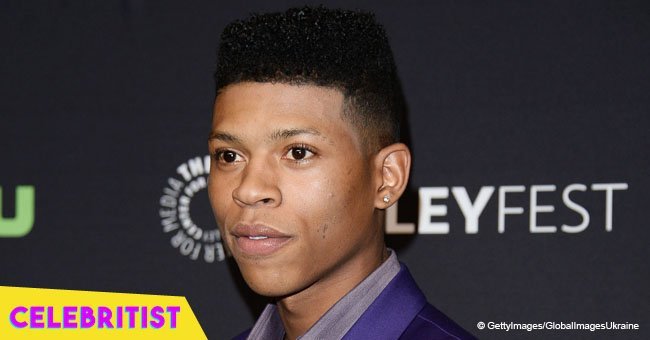 'Empire's Bryshere Gray shared intimate pic with older co-star after revealing his true sexuality
Bryshere Yazuan Gray is better known for his role as Hakeem Lyon in the Fox primetime musical drama series "Empire." The 24-year-old had the opportunity to work with an older co-star as his romantic interest in the series. However, some people had doubts about his sexuality.
Yazz went from being an unknown rapper that was working on his first album, to landing one of the leading roles in "Empire" next to big names like Taraji P. Henson and Terrence Howard, even though he didn't have any acting experience.
The series has had several A-list celebrities in guest roles. Mariah Carey, Remy Ma, Birdman, Alicia Keys, Eva Longoria and more have graced the screen in the four seasons of the show. One of the most celebrated guest stars was supermodel Naomi Campbell.
The 48-year-old beauty gave life to Camilla Marks-Whiteman, the older love interest of Hakeem in the first and second season of the show. Bryshere and Campbell were the stars of several intimate scenes, and for the young man, it was quite the experience.
Speaking to Entertainment Tonight, he jokingly said that he did some push-ups before a jacuzzi scene, and revealed that while many people found surprising the fact that his character was hooking up with an older woman, he wasn't shocked at all.
"Hakeem has a thing for older women," Gray said. "That's his fetish. He has serious mommy issues."
The aspiring rapper took to Instagram to share a pic for the memory vault with Campbell. In the pic, they're both wearing lavish clothes from one of the show's scenes. While he only used emojis to caption the pic, fans filled his comment section with praises, pointing out how good they look together.
Yazz doesn't have a girlfriend, at least not a public one, and in the first years of his career, some people started to spread rumors about his sexuality. The actor finally clarified his position on a visit to the radio show "Ebro in the Morning" in 2015.
One of the hosts of the show was confused about Grey's artistic name, Yazz, which gave "too many gay vibes.". While Grey didn't acknowledge the man's ignorant remark, he did state that:
"I'm the most heterosexual man you'll meet in life."
To make his point valid, he revealed that he was out there "doing his thing" in and out of the set, implying that he was making moves on many girls while enjoying his newly found rise on fame.
Watch the whole interview below:
Please fill in your e-mail so we can share with you our top stories!