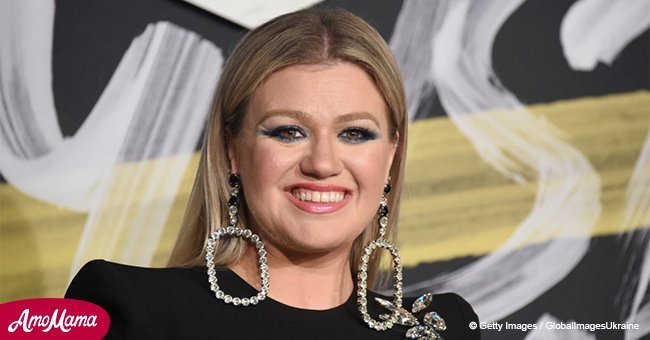 Kelly Clarkson made showman roar with laughter by singing her hit backwards
"The Voice" judge Kelly Clarkson had loads of fun when she played a game where she had to sing her song backward on Jimmy Fallon's show.
Fallon roared in laughter as Clarkson struggled to sing the song, "Since U Been Gone," backward during her appearance on "The Tonight Show."
At the time, the "American Idol" first season winner was still preparing to become a judge on "The Voice."
She initially talked about her then-future co-judges right before Fallon asked her to play a game where she had to sing one of her songs with a twist.
Follow us on Twitter at AmoMama USA for more stories and updates.
CLARKSON SAID, "I'M A PROFESSIONAL"
Fallon handed her a microphone after he explained that Clarkson had to sing her hit song, "Since U Been Gone,"backward.
Before the game, Fallon sang Clarkson's 2002 song, "A Moment Like This," which was what she sang when she was crowned as the winner on "American Idol."
Afterward, Fallon remarked that Clarkson might have sung her songs more than a thousand times and probably knows all of them forwards and backward.
Clarkson humored him and replied with confidence, "I'm a professional."
THE SINGER STRUGGLED TO SING BACKWARDS
At that moment, Fallon took her words as accepting his challenge.
Clarkson was ready to do it but admitted she never tried singing her songs backward.
The song started, and the singer looked nervous. She was laughing the entire time as she struggled to sing the right words.
Supposedly, it was really hard for her to sing the song backward with no practice.
Perhaps she found that winning "American Idol" was easier than doing the challenge.
By the end of her guest appearance, Clarkson performed her song entitled "Whole Lotta Woman," which was from her album, "Meaning of Life."
CLARKSON BECAME FAMOUS IN 2002
The singer first gained fame in 2002 when she won the hit singing competition.
Since then she had released several hit songs and sold millions of albums. She also won three Grammys.
Now, she is a mother to two children and a step-mother to her husband, Brandon Blackstock's two children.
Recently, during a press conference for the season finale of "The Voice," Clarkson shared the secret to weight loss when a journalist from Entertainment Tonight asked her.
Please fill in your e-mail so we can share with you our top stories!