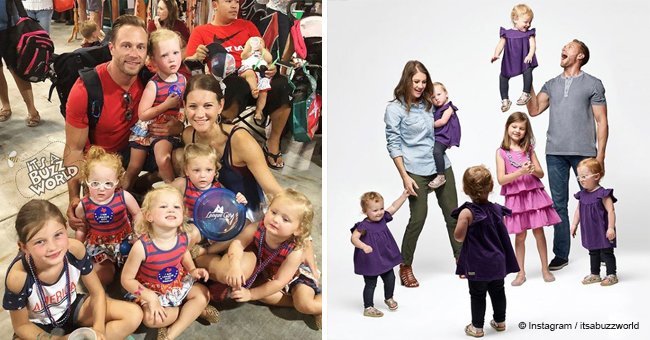 'OutDaughtered' family shared their joy via Instagram posts
On Instagram, husband, and wife Adam and Danielle Busby from TLC's "Outnumbered," shared their children's latest milestones in school.
Adam and Danielle, who have three-year-old quintuplets and another seven-year-old daughter, were happy to reveal that all Busby girls are now in school.
On the family's Instagram page, the couple shared adorable photos of their daughters with heartwarming captions for the fans to see.
As seen in the posts, their daughters were photographed right before going to school.
Follow us on Twitter at AmoMama USA for more stories and updates.
The couple first shared a photo of their quintuplets, Hazel Grace, Olivia Marie, Ava Lane, Parker Kate, and Riley Page, who have all started preschool.
Dressed in the same colorful outfits, the five three-year-olds stood side by side and posed for a snap.
On the caption, Adam and Danielle wrote, "Though their faces don't show it here in the pic, they were SO excited about starting school!"
The couple also shared an adorable photo of their eldest daughter Blayke, who is the spitting image of her mother.
She recently entered the second grade, and her proud parents shared a sweet message on the caption of her photo.
The pair wrote, "Our Blaykers started 2nd grade today! Growing up so fast! We are so proud of this little girl every day. We know she will thrive through second grade and meet lots of new friends."
At the time when the photos were posted, a lot of things were bothering the couple on the show.
During recent episodes, Danielle had been complaining about stomach pains and she eventually decided to make an appointment with a gastroenterologist.
It was later revealed that there was a possibility of her having Crohn's Disease. The couple had a serious conversation about it.
The episode ended on a cliffhanger as the couple was discussing that Danielle had not gotten her period yet and Adam supposedly admitting that he didn't get a vasectomy.
"OutDaughtered" is a reality series airing on TLC starring Adam, Danielle, and their six daughters. The show first aired in 2016 and is now on its third season.
"OutDaughtered" airs every Tuesday on TLC.
Please fill in your e-mail so we can share with you our top stories!