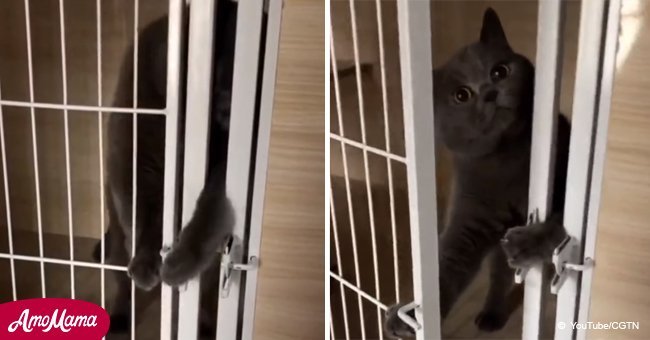 Cat in cage is about to escape but hilariously shuts gate when owner catches him red-handed

A British Shorthair cat tried to escape from its cage before getting caught by its owner and locking itself back in.
The clip below shows the hilarious moment a cat lifted the lock on its cage to open the door. However, it sees its owner watching after opening the door. The cat then slams the cage closed.
The incident took place in its home in Haikou City in Hainan Province of Southeast China.
Follow us on our Twitter account @amomama_usa to learn more and scroll down to watch the video.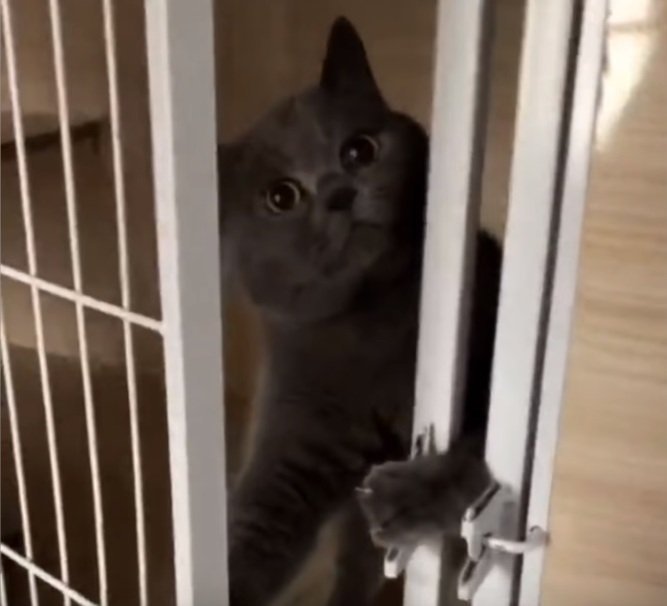 Source: Facebook/South China Morning
In the clip, the cat looked sad to be caught when seeing its owner.
Meanwhile, the owner can be heard laughing as the cat's eyes noticed her escape.
Since the video was posted on Facebook two months ago, it has been viewed more than 202,000 times.
The viral video also received over 3.9 thousand likes and over 2.6 thousand shares from netizens.
"If you watch this video, you would think how could some people in China manage to eat them?" Facebook user Wawa Willegers commented. "Such a beautiful cat. Smart and brave and I believe the owner loves him and treats him kindly."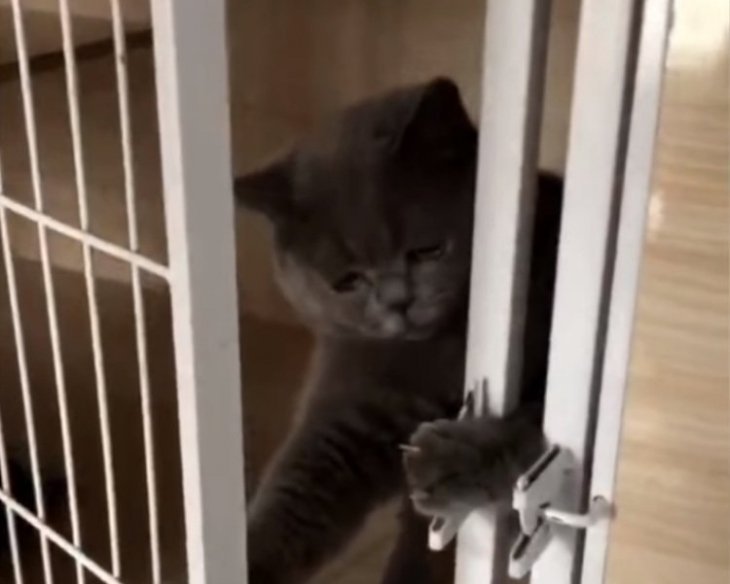 Source: Facebook/South China Morning
"Wow [that] cat have higher [IQ] than some human," Nobita Lim added.
"That face when he saw his master. LOL," wrote YeeNian Kwok.
British Shorthair cats are the pedigreed version of the traditional British domestic cats. They have a distinctively fat body, dense coat, and broad face.
These cats are one of the most ancient cat breeds known. They seemingly started from European domestic cats imported into Britain by the invading Romans in the first century AD.
As listed by the UK's Governing Council of the Cat Fancy (GCCF), British Shorthair cats remain the most popular pedigreed breed in its native country.
They are a constant media star because of their good-natured appearance and approximately calm temperament.
Please fill in your e-mail so we can share with you our top stories!