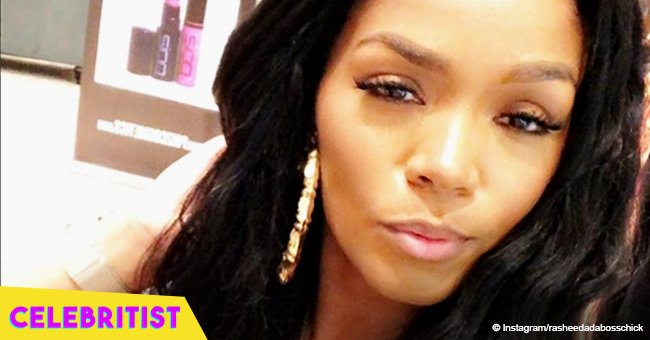 Rasheeda Frost shares date night pic with Kirk at Beyoncé & Jay-Z concert after reconiciling

Rasheeda Frost flaunts her rekindled relationship with Kirk Frost attending the concert of Beyonce and Jay-Z with him. She also responds to a fan who affirmed her decision to take Kirk back.
Rasheeda Frost's relationship with her husband Kirk Frost may be far from perfect but she's decided to be with him despite it. The 'Love & Hip Hop: Atlanta" star made no qualms about it when she responded to a fan who engaged in a conversation with her following her date night with Kirk at Beyonce and Jay-Z's "On the Run II" concert.
Rasheeda glowed in neon colors in a photo she shared on her Instagram where she stood in front of Kirk who was clad in black. She wore her blonde hair loose and fashioned thigh-high electric green sock boots with a peep toe. Her printed top covered most of the tiny shorts she wore underneath revealing a glimpse of her thigh where her boots ended.
The fashion designer simply captioned her photo "OTR II wit @frost117" but the photo spoke volumes of where their relationship now stands.
In April, Rasheeda welcomed Kirk back into her home despite fans' uproar over it. Kirk had cheated on her with Jasmine Washington and even sired a child with her. Fans couldn't believe Rasheeda would take Kirk back after his infidelity.
But Rasheeda is determined to keep her family together and she's making no apologies for it. In fact, when a follower of hers commented on her concert photo and wrote, "Ain't nothing like love that haves a story," Rasheeda agreed by replying a "100." Indeed Rasheeda and Kirk's love has a story – one of marriage, two children, Kirk's affairs, a divorce, a love child with Jasmine and now a reconciliation. With all that history and Rasheeda still finding it in her heart to forgive Kirk, then she must truly love him.
Some of her fans are supportive of her decision recognizing it isn't easy for Rasheeda to throw away her vows.
"Stand by ur man through, and thin girl prays God blesses you all and your marriage. It's not easy throwing away that many years..you did what you vowed to do " through thick and thin" It's just a blessing when you can make it past that story and keep turning the pages forward to a better stronger love you rock sis, and you are the Real Boss. #ILoveYouRasheeda #HopeIMetYouOneDay."
Another agreed but issued a warning to Kurt.
"Alone we can do so little; together we can do so much." Helen Keller said it best to you. Only allow God to guide your path!! I adore the FIGHT & STRENGTH in you both to battle. I love how you always know what to say, and you don't start drama, and you're a peacemaker. You're a beautiful lady, and Kurt better does right by you this time he almost lost a good woman."
Kirk and Rasheeda tied the knot in 1999. They have two children, Karter and Ky. In 2017, they separated and planned to divorce. However, events such as Kirk's mother's death in January and his birthday soon thereafter have brought them closer. In July, the couple was spotted hitting a club together following Kirk's silence during his son, Kannon Washington's 2nd birthday. Many suspect his absence in his love child's life is also due to his reconciliation with Rasheeda.
Please fill in your e-mail so we can share with you our top stories!