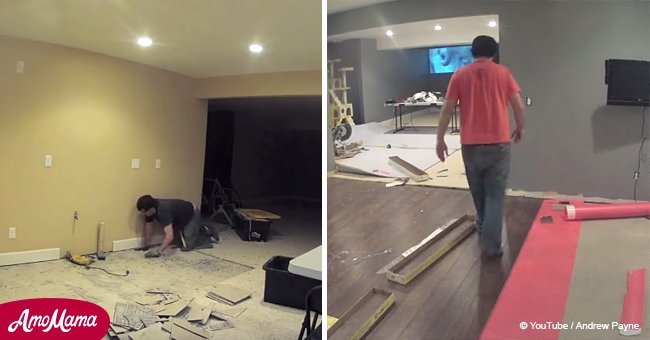 Man transforms basement into awesome craft room to surprise wife and daughter
Andrew Payne took it upon himself to convert the basement of his house into a beautiful room in which his wife and daughter could indulge in their hobby of craft making.
Payne recorded the process from start to finish and posted the video of the hard work he did for 20 days, on YouTube, on February 16, 2014.
He was able to complete the transformation of the basement into an arts and crafts room just before his wife and daughter returned from their vacation.
Read more on our Twitter account @amomama_usa.
The wonderful husband and father wrote in the description of the video that although the job of converting the space was tremendous, he could complete almost everything by working on it day and night because his wife and daughter were out visiting relatives.
"My wife and daughter went away to visit family and left me alone for 20 days, in that time I transformed our basement with the new craft room they had been dreaming about. It was a ton of work, but with them gone i could work all hours of the night."
Andrew Payne, YouTube, February 16, 2014.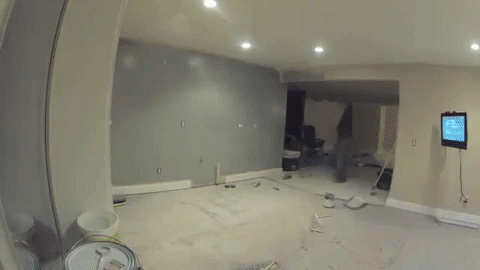 Source: YouTube / Andrew Payne
Payne built the wooden tables, installed wooden floors, placed overhead lights and also built a closet space in the small room attached to the basement. He even set all the craft materials and supplies in it.
He painted the room with bright and cheerful green and gray colors.
His family's reaction after viewing the result of his hard work was definitely worth the sleepless nights he spent perfecting the room.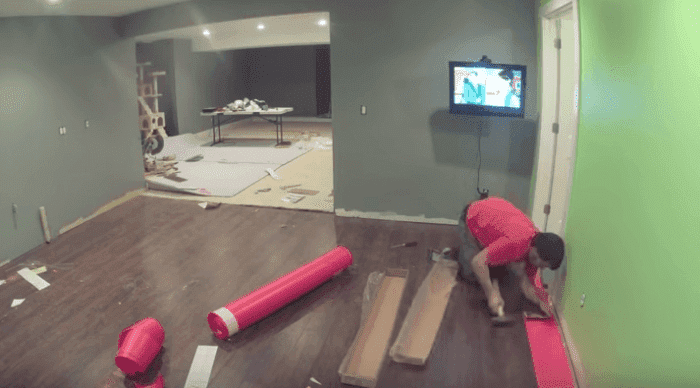 Source: YouTube / Andrew Payne
The first ones to barge in and check out the room where the family's two dogs, who kept slipping because of the smooth wooden floor.
The next person to enter the room was Payne's daughter who found it hard to contain her excitement, yelling "This is awesome!" while looking around the room.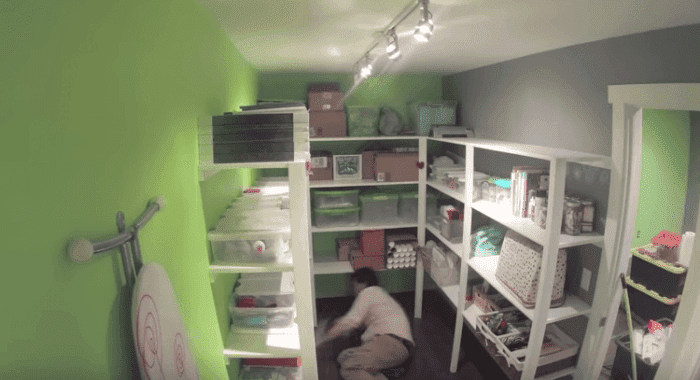 Source: YouTube / Andrew Payne
The last one to see the craft room was Payne's wife. She looked overwhelmed and astonished by the transformation.
Another man, Joseph Dupuis, converted three shipping containers in a deserted woodland area into a self-sustaining house; he had paid $2,621 for each container.
Dupuis, from Canada, is a 29-year-old renewable energy researcher at Algonquin College in Ottawa.
He built a stunning home inside the three plain looking shipping containers and lives rent-free on his family land which is roughly 35 miles west of the city, Daily Mail reported
The shipping containers were from Asia and were supposedly used to bring goods to North America. The engineer and entrepreneur used the solar panels placed on the roof of his nearby workshop, to power his home.
Please fill in your e-mail so we can share with you our top stories!