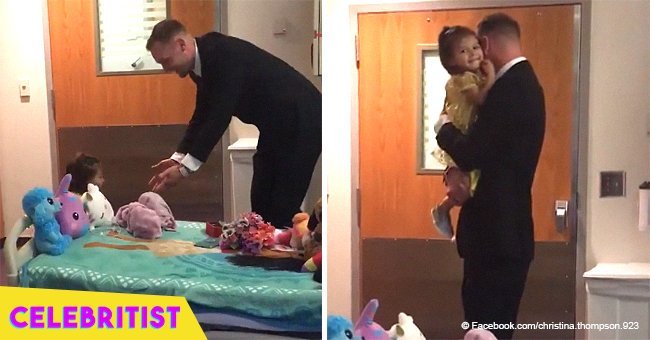 2-year-old girl puts on yellow dress after 1st round of chemo & then her dad shows up in a suit
One amazing dad decided to surprise his little girl who just completed her first round of chemo for leukemia. Their family story and the video of their touching father-daughter dance will bring tears to your eyes.
Two-year-old Phoenix was diagnosed with Leukemia on August 2 and commenced an aggressive round of chemotherapy two days later. According to her GoFundMe page, Phoenix is billed to undergo four rounds of chemotherapy in the short span of five months.
Her mother, Christina Thompson, confessed:
"At 2 years old this is hard on her, on her family and the people that love her"
So when Phoenix completed her first round of chemo on August 16 at the Aflac Cancer and Blood Disorders Center of Children's Healthcare of Atlanta, her dad, Brett Thompson, decided to make it a special day for her.
Christina recalled how a nurse came around with a couple of dresses said to have been dropped off by a volunteer. She grabbed a yellow one for Phoenix, and immediately the little girl wore her dress, in walked daddy. In a suit!
Brett picked up his little girl from her hospital bed. Surrounded by stuffed toys in varying colors, the duo swayed to Tim McGraw's "My Little Girl." Christina, who has three other kids, was touched by the emotional scene and wrote on Facebook:
"I mean honestly I don't think I could have picked a better man for my kids. …These little moments make these times not so hard."
As at this time, the video has amassed over 229,000 views and has been shared over 1,000 times. Comments of support for Phoenix and admiration for Brett have also trailed the post from social media users across the world.
Brett and Christina became Phoenix's legal guardians when she was only seven weeks old. Her birth mother, Christina's friend, was an active drug user at the time.
They reconnected after the Thompsons moved to Georgia as a result of Brett leaving the Army. Meanwhile, Brett is out of work to take care of the other children and drive back and forth to be with Christina and Phoenix in the hospital.
Christina told 11Alive that her friend is in active recovery and very much present in Phoenix's life. "We are one big support system," she concluded.
Please fill in your e-mail so we can share with you our top stories!