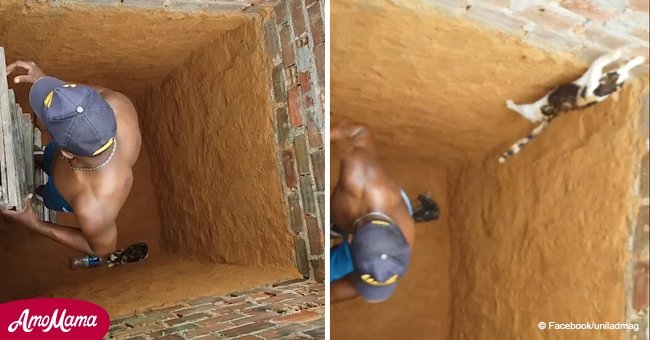 Cat outsmarts man who climbed into hole to rescue it

A video of a cat rescue-gone-wrong is taking the world by storm and proving once more that cats have no masters and will do what they want.
The origins of the video are still uncertain, but it was shared to Unilad's Facebook page earlier this week. The clip garnered 1.3 million views in less than three days.
A man can be seen lowering a ladder down a hole to rescue a trapped cat. He talks soothingly to the cat as he painstakingly makes his way down.
Follow our Twitter account @amomama_usa for similar stories. The short clip can be seen below.
Unfortunately for him, the cat had other plans and didn't quite feel like being rescued on that particular day.
When the man was halfway down the ladder, the cat bolted. He ran up the sides of the hole's brickwork in acrobatic fashion before running off.
The escape took him less than three seconds, and bystanders can be heard bursting out in laughter as the cat runs off.
Cats are agile creatures indeed as Baron the furry feline from Ontario proved. Baron waits for the mailman every day at 12 p.m.
When the USPS employee arrives and slides a letter through the letter hole in the door, Baron snatches the envelope before it can slide down to the floor, and dashes away with his catch.
Cats are also highly intuitive, and sometimes it's more than just fun and games with them. A mother-of-two from Staten Island said her cat Herbie saved her daughter's life.
Janine DeMartini, a full-time employee who was studying towards her master's degree at the time, was so tired one evening she just wanted to go to bed.
But Herbie the cat kept trying to get her attention. He meowed in the bedroom until she finally let him out and followed him to her daughter's room.
To her shock, she realized that a blanket was covering the toddlers' face, and she surely would have suffocated if Herbie didn't raise the alarm so to speak.
Please fill in your e-mail so we can share with you our top stories!