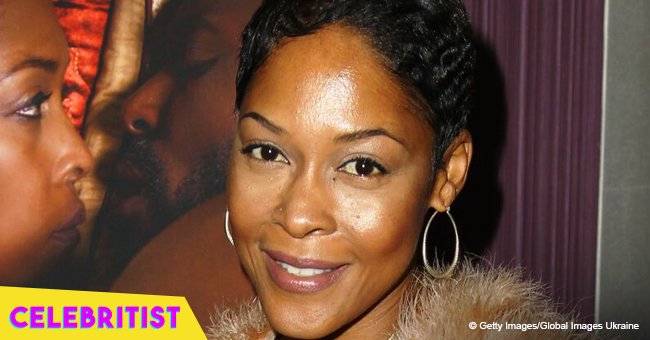 Remember Mia from 'The Best Man'? She turns heads in blue midi dress with belt in recent photo
Monica Calhoun, better known for her role as Mia on "The Best Man" and its sequel, is nearing her fifties. The actress, who was away from the screen for a long time while taking care of her blind son, is looking better than ever.
The 47-year-old beauty made her return to television last year when she got the role of Patricia Tresvant, Ralph Tresvant's Mother in the BET miniseries "The New Edition Story." Now, it seems like Calhoun might be in the middle of a new project.
Monica recently took to Instagram to share a photo where she's seen rocking a blue midi dress and black sandals while sitting at the door of a trailer with what fans are speculating is a script on her hands. The beautiful mom of one completed her look with gold hoop earrings, a long necklace and a green belt with silver details.
While she didn't caption the pic, fans took it upon themselves to get excited about the possibility of Calhoun working on a new project. One user wrote "Oh wow! Something cooking??? A new movie???" another added, "We all been waiting for you pretty please," and a third one said "Yasssss! She is going back to work!"
Calhoun started her career back in the '80s with a role on the TV film "Children of the Night," and later, she made appearance in series like "Heart and Soul," "She Stood Alone," "The Jacksons: An American Dream," "The Wayan Bros," and "The Jamie Foxx Show."
Her most memorable role is the one as Mia Sullivan on "The Best Man" and "The Best Man Holiday." It was on the premiere of the last film of the series that Calhoun introduced her son to the world. The 18-year-old boy is blind, and Monica had to step away from the spotlight for a while to take care of him.
Attending to a child with needs was not something new to Calhoun, as her brother suffers the same disability, and she had to tend to him while growing up.
In an interview with SmartalecMusic a few years ago, Calhoun revealed how her brother's disability made her gain a new perception of the world, saying:
"My compassion and my sensitivity are heightened because of my brother's blindness and spending a lot of time with him. And you know, teaching him things that I've learned…and then vice versa somewhat. Me spending time with him at his programs…like 'The Braille Institute'…just different little things. So, I got a chance to experience life on a different level. Patience in watching these people that volunteer to work with children that have some sort of impairment…"
Calhoun is a proud, hard-working mom, and she's always filling her Instagram with adorable pics or videos alongside her teenage son. Even though some online trolls have made it their mission to bother them, Monica has fired back with class to let them know she loves her son no matter what.
Please fill in your e-mail so we can share with you our top stories!