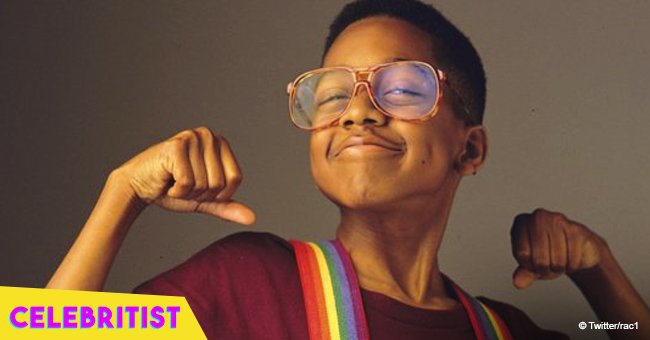 Remember Urkel on 'Family Matters'? He melts hearts eating icecreams with his daughter in new pic
Jaleel White, better known for his role as the perky neighbor Steve Urkel in the '90s sitcom "Family Matters," is now a doting and proud father. His Instagram account is filled with photos of his daily life with daughter Samaya, and in his most recent post, the girl looks happy with her sweet treat.
Samaya White just turned 9 a few days ago, but she's still daddy's little girl.
Born from Jaleel's rocky relationship with actress Bridget Hardy, the girl has been melting hearts all over social media with her adorable smile and charming personality, outshining her handsome dad.
In White's most recent Instagram post, the pair is seen enjoying some ice cream, Samaya's favorite dessert, as they make funny faces to the camera.
While the girl is sticking out her tongue and scrunching her face, Jaleel took a lick at the cone while rocking a black baseball cap and a black t-shirt. Samaya, on the other hand, is donning a yellow t-shirt with little hearts printed all over it.
"Good talk. Let's get ice cream," the actor captioned the pic. Fans immediately flocked his comment section to point out how much Samaya looks like Jaleel's little twin and to praise his abilities as a father.
One user wrote "She's so cute! Definitely your mini-me!" another added, "Talks always end better with ice cream.....for the kids," and a third commenter said "Haha! You are such a nice person and a super daddy!"
A few years ago, Jaleel was under fire from the general public and the media when his baby mama went to press to accuse him of domestic violence.
Bridget Hardy said in an interview with Star Magazine:
"Verbally and emotionally, he's abusive. He told me I'm not working; I have no money; I'm white trash. None of it was true. He hit me across the chest area, He pushed me into the toilet, and it broke. Water went everywhere, through the walls and even to the kitchen downstairs."
She also stated that the actor had tried to pay her off to left their daughter with him, offering her $200,000.
White, now 41, denied the accusations in an interview with Entertainment Tonight, saying:
"I've never been arrested in my life; I have no history of violence. I've never even had a cop show up to my home. And the ploy is, 'Alright, I know he doesn't want trouble, so he'll pay more.' And a dollar amount was pushed across the table and child support, monthly child support. Pay this, and everything goes away."
Despite all the past drama he lived with the mom of his child, Jaleel seems to be in a perfect place with his daughter now. And while there are no traces of Hardy on his life, he looks happy sharing all those beautiful moments with his little girl.
Please fill in your e-mail so we can share with you our top stories!