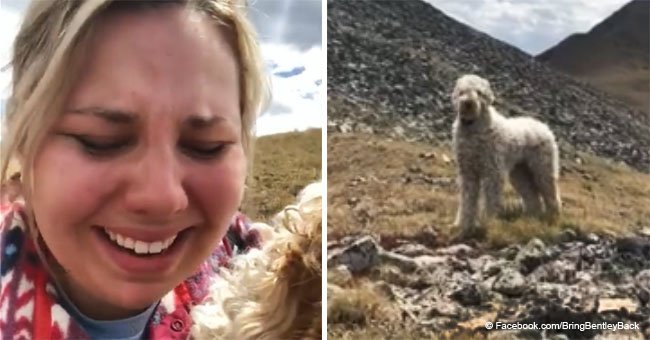 Golden-doodle found alive in the mountains 19 days after fatal car crash
21-year-old Samantha Orr was reunited with her 1-year-old Goldendoodle dog named Bentley after he was lost during a Jeep crash in Colorado.
A video of the special reunion was posted on the Facebook page, Bring Bentley Home, by Orr herself. She described in her post that the dog was lost for about 19 days following the crash that also claimed the life of her mother.
Bentley was seen running downhill from the place of the accident and was only spotted far above the site three days prior to when Orr actually found him.
On the day she found him, she left Pueblo early in the morning and drove to the accident site in Buena Vista. Together with her team, she spent hours hiking to the top of the mountain and searched for Bentley.
Follow us on Twitter to learn more.
'I have never, and I mean never, done such dangerous and rewarding activity in my entire life,' she wrote in her Facebook post.
When she finally spotted Bentley and approached within 30-40 feet of him, the dog seemed hesitant about coming near her.
He made his way toward the ridge of the mountain and Orr carefully followed him. At the summit, the dog finally recognized her and was looking at her, seeming interested.
She approached him once again, this time laying down on the floor some of the items to eat and a new toy for him to play with. He took some time to get acquainted with Orr's presence and she had back off and give him some space.
Eventually, the dog came nearer to her and finally 'into her arms,' she wrote. 'And from then it was nothing but tears and celebration,' her Facebook post further stated.
Orr informed that Bentley was recovering well. He was malnourished 'a little' and was dehydrated, but he had not sustained any injuries.
The bond between a dog and their human friend is truly a special one. In a similar story, a dog named Sadie showed a similar bond by going into a state of grief when his human friend suddenly passed away.
Please fill in your e-mail so we can share with you our top stories!