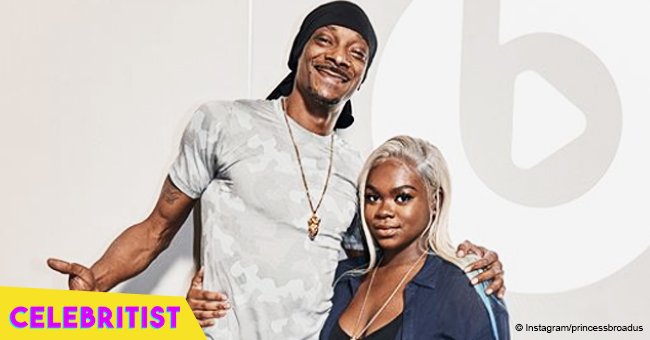 Snoop Dogg's daughter shows off flawless complexion in pic after 'despising' her skin color

Snoop Dogg's daughter has learned to love her own complexion after "hating" it when she was growing up. Cori Broadus showed off her beautiful face in her latest Instagram posts.
Given that she comes from hip-hop royalty, Cori Broadus should not be feeling bad about her own skin. However, it was an insecurity that she's had to deal with ever since she was younger, and it wasn't until recently that she has decided to embrace it.
She opened up to Essence about her journey towards self-love and has been trying to inspire others to do the same through her social media posts and through her recently released single.
"I can finally say I'm comfortable in my own skin, grew up disposing the skin tone I was in because it's been bashed for so long & society has been pitting in our heads that dark is ugly. For all you beautiful chocolate girls/women out there you're BEAUTIFUL & don't let anyone tell you different. –Cori B."
Now, Cori, known as Choc, is ready to show the world who she really is, following her dad's footsteps in releasing her own album. While some music prodigies of famous artists usually just release music for the sake of it, Choc has made sure to use her talents to bring up an advocacy she keeps close to her hearts.
According to the singer, she wants to "bring back the old school R&B vibes with a positive message for women across the world."
"LOVE ME FOR ME is out on all streaming platforms. make sure you guys go check it out #LOVEMEFORME"
We are definitely liking this advocacy that Broadus is raising awareness for, especially since "colorism" is a rampant issue with young black teenagers nowadays. With good influences like Choc, they will be inspired to love themselves for who they are, just as the hip-hop royalty would say in her latest single "Love Me For Me".
Please fill in your e-mail so we can share with you our top stories!