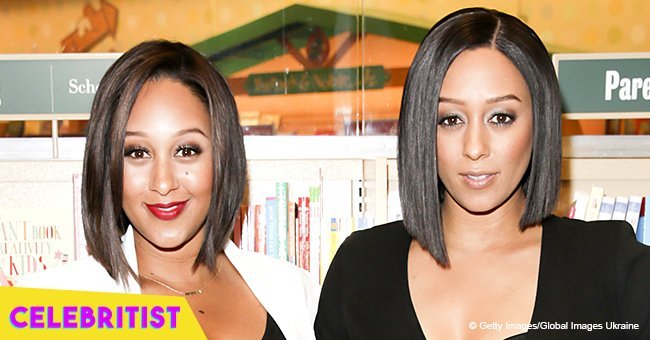 Tia and Tamera Mowry's black mother stuns in pink swimsuit in throwback picture
Tia and Tamera Mowry have always been extremely proud of their parents, sharing photos of both of them here and there. After sharing one of their dad a while back, it was time for Tia to show off her mom, who looked stunning in a bright pink swimsuit when the twins were still kids.
Fans were left confused after Tia shared a throwback photo of her, her sister Tamera, and her mom. People were shocked to find out that the little girls in the photo were actually the twins, as one of them, presumably Tamera, looked exactly like Ariah Housley.
In the photo, the girls were dressed in their swimwear as they posed for a photo outdoors. Their mom Darlene Mowry looked every inch a cool mom in her low-cut backless tie-back swimsuit, that definitely stood out from the crowd. She had her little ones in tow, and while Tia and Tamera can't be distinguished between one another as there were no tags on the picture, they both looked adorable in their colorful swimsuits. However, one of them seemed to be startled by something, as she gave the camera her best "scared" face.
Just in time for Memorial Day, Tia also made sure to share a photo of her father, Timothy Mowry, who served in the military with their mom. Honoring all the men and women who put their lives on the line to protect their country, she posted a heartfelt Instagram post.
"We honor those today who have fallen. Both my parents served in the #army. My dad, on the right trained many that went to war. The #gulfwar to be exact. It's important we never forget their strength and bravery and those who have died to protect our country. #memorial#day"
Timothy and Darlene raised their children in a protective manner due to their military background, but they did not hinder them from achieving their dreams, no matter what they were.
Tia, Tamera, Tahj, and Tavior Mowry all went on to pursue different careers in the entertainment industry, with the exception of Tavior who first tried his luck in football. Despite living separate lives, they never forget to honor their parents when they can, which proves the good way they were raised.
Please fill in your e-mail so we can share with you our top stories!