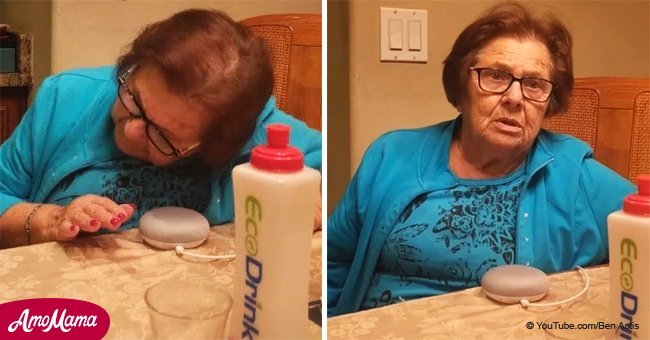 Adorable Italian grandmother tries to use Google Home for the first time
A YouTube video showed when 85-year-old Maria Actis from Italy had her first hilarious encounter with a smart home device.
Ben Actis uploaded the video that captured his family's Christmas gift exchange last year. Actis was given a Google Home Mini from Becky Siegal, her grandson's girlfriend.
The clip began with a confident "Goo goo!" from Grandma Actis as she attempts to activate the device and speak to Google. She gives a hearty laugh before realizing in surprise that it actually answered her.
"I'm glad to meet you!" She shouted.
Follow us on Twitter for more @amomama_usa.
The device doesn't say much at first. But when Actis is prompted to use the correct term, "Hey Google" or "OK Google" to wake it, she asked for the weather and is taken aback when it gives an accurate answer.
"I'm scared. I'm scared, It's a mystery," she said as she got up from her sit in awe. "Oh my gosh," she remarked. Then she got right back into it with the device.
Actis then asked Google to play an Italian song. But by this time she's lost track again of the process and isn't successful.
She interjects her own singing while waiting for the device to play a song for her. Eventually, she screams "Do it!" at the machine before the clip ends.
Ben isn't surprised at the popularity of the video. It currently stands at over three million views on YouTube. He said:
"There's a ton of stories where she's like this, such as the time she fell off the back of my grandfather's motorcycle the day before their wedding and he didn't notice. She's absolutely this adorable."
The internet agrees.
Earlier this month, another grandmother hilariously entertained an audience when she auditioned on "Britain's Got Talent" in front of the hesitant judges.
She came on wearing no less than a typical "Granny sweater" and a long skirt. But when prompted to start, she pulled it off to reveal a full on black rockstar outfit.
She then lit up the stage with a shocking performance of the classic "Highway to Hell." She even made Simon Cowell, known for his tough attitude, bob his head to the rendition of the hit.
In July 2018, dancing took a presidential turn when former POTUS Barack Obama visited Kenya. He busted out his dance movies during the launching of a center founded by his half sister, Auma Obama.
Please fill in your e-mail so we can share with you our top stories!