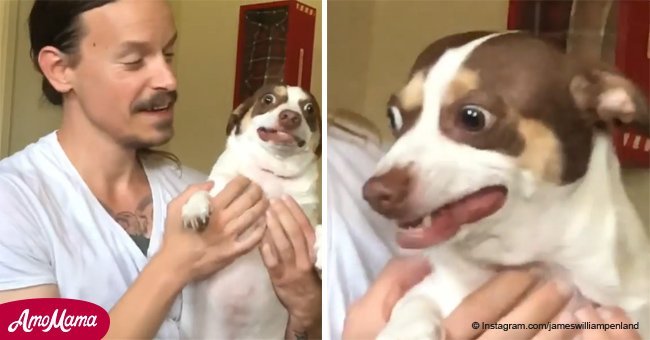 Rescue dog has hilarious reaction to being cuddled

Meet Mr. Bubz, the rescued dog that has taken the internet by surprise thanks to his energetic personality and odd facial expressions.
The adorable pup already has thousands of followers on social media even though he has only been in it for a couple of days.
It all started when James William Penland took to his Instagram account to share a short clip of himself holding Mr. Bubz, and the dog's reaction quickly went viral.
Usually, dogs are considering to be very affectionate towards humans and seem to seek their attention more than other animals, such as cats, who prefer to be left alone most of the time.
Follow us on our Twitter account @amomama_usa to learn more.
But Mr. Bubz is truly a case worthy of being studied. In the video, James can be seen gently holding the dog and telling him that he loves him.
Mr. Bubz seems shocked by James' display of affection, even more when the man kisses him on the cheek, which causes the dog to start snarling.
The camera then zooms in on Mr. Bubz's snout and his big bulging eyes. The dog's expression can be both hilarious and terrifying.
According to Lizze Gordon, his owner, Mr. Bubz is a 'demon-possum hybrid' that can be both shady and paranoid, but also a complete joy to be around.
Now that Mr. Bubz has become an internet sensation, he has his own Instagram page, where his fans can check out what he has been up to.
But the 'demon-possum hybrid' isn't the only animal that has become a star as of late; Bruno, a K9 agent that was shot in the face while chasing down a suspect, also made the internet tear up after reuniting with his partner, RJ Young.
Bruno has been on the Anaheim Police Department for six years, always doing his best as a police dog. After being shot, he refused to go down and immediately returned to Officer Young, bleeding profusely.
The suspect was killed in a gunfight with the police and Bruno had to be rushed to the ER. Luckily, he was strong enough to survive. The bullet miraculously missed his heart and lodged itself in his lung.
Bruno had to go through a particularly hard recovery process, especially due to his shattered jaw, but his sweet reaction upon reuniting with Officer Young made it all worthwhile.
Please fill in your e-mail so we can share with you our top stories!