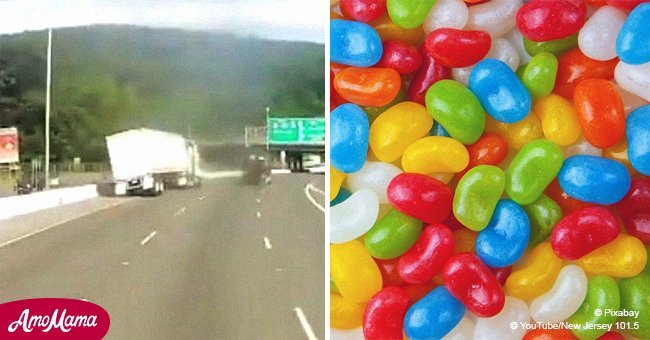 'Bittersweet' moment truck carrying candy overturns as a result of road rage

Police released dash-cam footage that showed a tractor-trailer overturn when an SUV halted in front of it on the northbound lane of Route 17 in Mahwah, NJ.
Approaching 10 a.m on August 9, the dash-cam on another tractor-trailer recorded the shocking incident. It showed a gray SUV go ahead of the candy truck and brake.
When the truck attempted to bypass the SUV, the SUV again pulled in front of the truck and halted suddenly. This caused the truck to lose control.
Follow us on Twitter for more @amomama_usa.
The truck wheeled into the highway shoulder and hit the center median before flipping over. The 36-year-old driver was heading for Depew New York at the time.
Chief of Police James Batelli reported that no one was hurt. "Miraculously, no other vehicles struck the tractor-trailer, which could have resulted in a major accident event," he said.
The 44-year-old SUV driver from Montebello reportedly told police he was trying to deter the truck from reckless driving by attempting to slow it down.
Batelli was not pleased he "decided to take the matter into his own hands and slow the tractor-trailer down to prevent any type of accident."
The footage was released closer to Labor Day despite the event occurring early this month. Batelli said it "underscores the dangers of an increasing trend in road rage incidents."
Both drivers were issued summonses for reckless driving, failure to maintain lanes and failure to signal. The SUV driver's summonses also included delaying traffic.
Source: YouTube
Back in May 2018, another dangerous act on the highway was captured by a school bus' dash cam. Joe Rizoli, who has been driving since 1979, halted his bus when the car in front of him stopped for a bizarre reason.
A 42-year-old driving a 1999 Toyota Corolla flagged him down, and when Rizoli didn't stop, the man parked his car dead center on the highway.
He attempted to enter the bus but was not allowed. Then, incredibly, he climbed onto the hood of the bus and wagged his finger at Rizoli. He wanted to know why the bus windows were tinted.
Source: YouTube
Police used the footage to track down the man but was unable to discern why he behaved how he did. And Rizoli said it was one of the strangest things he'd seen in his years of driving.
Another incident in early May was just as frightening. Off-duty deputy Jeremie Nix saw a white sedan pull over and flag him down in Florida. The driver Nechole Crowell's son had stopped breathing.
Nix rushed to administer CPR to baby Kingston before taking him to Ocala Regional Medical Center where the child made a full recovery.
Crowell was eternally grateful, posting about the incident on Facebook and letting others know how Deputy Nix saved her son that day.
Please fill in your e-mail so we can share with you our top stories!