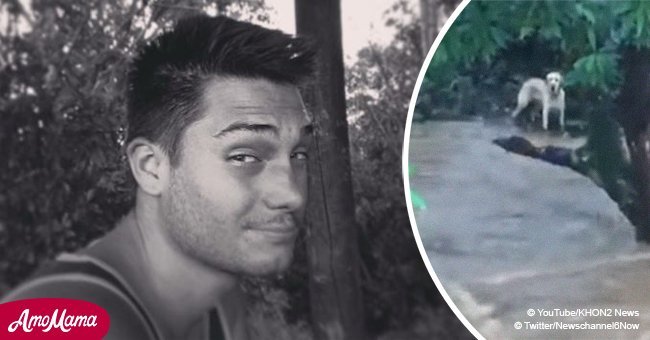 Hero dies after saving a scared dog from Hurricane Lane aftermath

A 30-year-old man from Kauai, Hawaii, lost his life after he jumped into the Waikomo Stream on Tuesday to save a stranded dog.
Joshua Bradbury got the dog to safety before a strong current swept him away. His best friend, Noah Foote, found his body several hours later.
Foote told Hawaii News Now that they were watching the raging waters when Bradbury saw the dog on the opposite bank.
He jumped into the stream without a second thought. Read more on our Twitter account, @amomama_usa.
Foote went on to say that Bradbury was carried downstream but only lost control of the situation when he reached a culvert and went underwater.
Foote was devasted by the loss and said that he was crying all night and that it still "hasn't hit home yet." He added:
"I'm going to miss everything about him. He was my best friend and my brother."
Bradbury's parents described him as the type of man who would "not hesitate to help someone [...] in need" and that he was a blessing to everyone who knew him.
His family has since created a GoFundMe account after members of the community asked how they could support the family financially.
Hurricane Lane had been wreaking havoc across the island, forcing residents to evacuate until the water levels subsided.
In other news, citizens banded together to save a baby from an overturned truck in Texas earlier this year after flood waters flipped the truck over.
A video clip of the incident has since gone viral on social media and shows the rescuers braving the flood waters to reach the truck.
The baby's parents told the rescuers that the 4-month-old was trapped in the backseat. He didn't have a heartbeat when the freed him from the vehicle, and the rescuers performed CPR to revive him.
Earlier this year, twin brothers from Orlando also saved a toddler from drowning after she jumped into the deep end of the pool. Read more about it here.
Please fill in your e-mail so we can share with you our top stories!