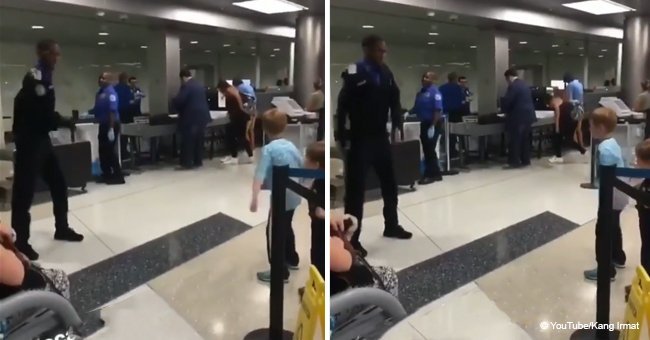 TSA officer accepts boy's challenge in hilarious dance-off at airport
A usual TSA screening quickly turned into a stage for a hilarious dance battle after a young boy started showing off his moves.
A video uploaded to YouTube showed the boy breaking into a dance just as he passed through a checkpoint at Newark International Airport.
Captured by one of the onlookers, the video revealed the boy tossing aside his stuffed animal to join the competition.
The young boy in the blue shirt and the uniform-clad officer engage in the dance-off for quite a while drawing the attention of all the bystanders.
Follow us on Twitter to learn more.
The crowd is heard laughing and cheering on the two dancers as they fully commit to the carefree dance battle.
TSA spokeswoman Lisa Farbstein told NBC5 that the boy and his family were heading through security at the airport's Terminal B when a young traveler started to dance prompting the dance battle.
Farbstein explained that one of the TSA officers, Joshua McCall, then complimented the boy's dance moves. But then the boy challenged McCall to a dance-off.
"The family was very appreciative of the TSA officer's engagement and overall demeanor, and they requested that McCall take a group photo with the family, which, of course, he agreed to do," Farbstein told NBC5.
Talking about the incident, TSA's federal security director for New Jersey, Tom Carter, explained that such behavior showcased the "human side" of the dedicated professionals on the front lines of homeland security.
He also stated that the agency's officers would gladly accept and engage in any dance challenges from the passengers as long as they are not too busy.
"Officer McCall not only helped keep this family safe but also made their checkpoint experience both pleasurable and memorable," he told the news outlet.
It is always great to see law enforcers stepping beyond their role and showing their normal human side. In a similar story, an entire police department in Missouri showed their relaxed-side by dancing to the beats of a famous song.
Please fill in your e-mail so we can share with you our top stories!