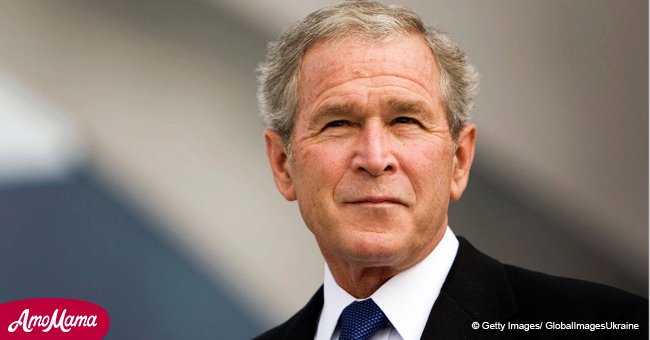 George W. Bush gives Michelle Obama candy at John McCain's funeral
Former President George W. Bush and former FLOTUS Michelle Obama proved this weekend that members from different political parties can be civil with one another.
They were seated next to each other at the late Senator John McCain's memorial service on Sunday at the Washington National Cathedral in Washington.
George W. Bush was sitting next to Michelle and Barack Obama, with his wife Laura to his left. Read more on our Twitter account, @amomama_usa.
Bush can be seen taking a piece of candy from his wife and passing it to Michelle Obama, who was seated to his right. The heartwarming footage can be viewed below.
Michelle graciously accepts the candy and mouths the words "thank you" while Laura sits with a big grin and George looks ahead with a serious face.
The heartwarming incident shows that the two share a close bond, and the video soon took the world by storm with Brenna Williams saying on Twitter:
"I'd like to think that moments like this between W. Bush and Michelle Obama are what McCain was hoping for."
Actor and philanthropist Holly Robinson Peete said George and Michelle were "making America sweet again."
In another tweet, she said her favorite part "was [that moment when] George Bush kept his eyes forward trying to be sneaky but then snuck a quick look down to see that she got it."
A Twitter user known as Pam Slay said she loves their relationship and that it gives her hope during these dark days, while another user said: "This is the way it should be."
Another Twitter user explained that they formed a bond when Michelle took an interest in George's artwork, "something dear to his heart."
Both former Presidents Bush and Obama gave eulogies at McCain's service, who passed away August 25 from aggressive brain cancer.
McCain is survived by his wife Cindy, seven children, as well his 106-year-old mother, Roberta McCain.
Please fill in your e-mail so we can share with you our top stories!